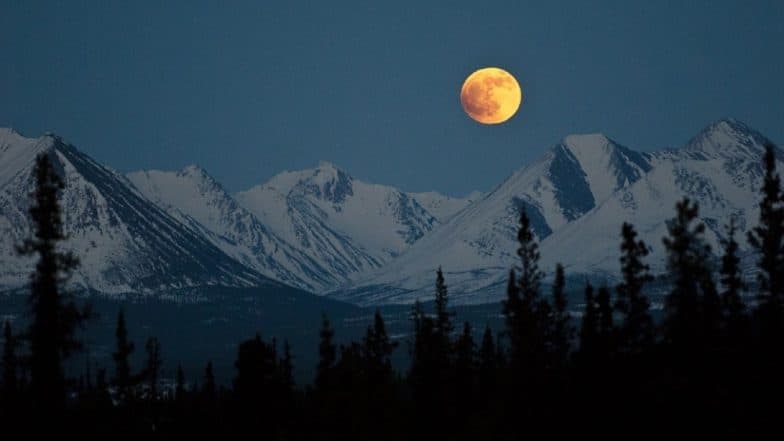 Super Snow Moon will be the brightest and biggest in the sky today. Supermoon 2019 that appeared in the skies on Sunday night will be there through Wednesday evening. Sky gazers are in for a treat as the moon will be the closest to the Earth on February 19 making it look big. It will peak in the sky for six hours and 50 minutes after perigee. Those planning to watch the event are advised to leave the city limits for darker and clearer skies. You can also watch live streaming of the Super Snow Moon 2019 event here.
The Super Snow Moon will be at its peak on Feb. 19, 2019, at 10:54 am. EST. In India, the moon will peak on February 19, 2019, at 21:23 pm IST. The moon will appear 14 percent bigger in diameter and closest it will get to Earth in its elliptical orbit. Stay tuned with thus to watch the beautiful Supermoon 2019 as it appears in the sky. The moon is called super snow moon as it appears in February when most places experience winter. This Supermoon will be this year's second and biggest of the three consecutive Supermoons. The term 'Supermoon' is not an astronomical name, but coined by astronomers to describe the full moon. Super Snow Moon 2019 Date and Timings in India: Know All About The Biggest Supermoon of the Year.
Watch Live Streaming of Super Snow Moon 2019 Here:
This Supermoon also coincides with the Chinese Lantern Festival. The observance which is celebrated on the 15th day of the first month also falls on February 19 this year, marking the final day of the Chinese New Year. The Snow Moon is known by various names including Crow Moon, Crust Moon, Sap Moon, Sugar Moon, Worm Moon, Lenten Moon, Snow Moon, Hunger Moon all derived from various references to cultures and traditions of different regions.