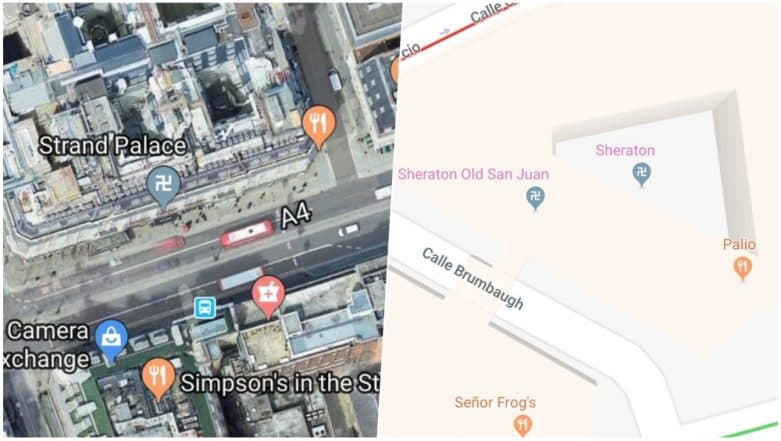 Google Maps have begun the go-to option for everyone who is heading somewhere. It has become the obvious choice to find ways, nearby places and get directions. Google has made it easier to identify certain places with its icons. But those who are unaware of which symbol represents what place can get confused. The same is happening with the recently seen Swastika symbol and some are panicking with a similar symbolic history relating back to the Holocaust. The icon on Google Maps is the original swastika symbol which is a good symbol in Hinduism, Buddhism and Jainism. So the symbol seen on Google maps just represents these places of worship and nothing else. Google Maps Introduces Commute Tab, Integrates Music Apps Like Google Play Music, Apple Music & Spotify. 
Soon after the swastika symbol was being observed on the Maps, people took to Twitter expressing confusion over what it was. People from Las Vegas to London spotted the icon on several hotels and other unlikely spots. The confusion is rising since a lot of hotels which were earlier represented by the bed icon, now shows the swastika symbol. A variation of the swastika symbol was used to denote Nazi group and became an icon of anti-Semitism. It is thus causing some panic and bemusement among the regular users of Google Maps. Are Ghosts Real? These Google Maps Street View Images Have Captured Some Creepy Faces, Watch Video. 
Check Tweets of People Reporting About the Swastika Symbol on Google Maps
@googlemaps can you tell me why the hotels in Dublin on my Google maps has swastika signs for them 🤔 pic.twitter.com/rPuTN6W47y

— katie (@irishkokolily) November 30, 2018
Playing around with Google maps today, when I tried to change the icon for my location pin, I looked at more icons than the first few that appeared... and I found the swastika... why????

— ℳąhą Bąℓi, PhD مها بالي 🌷 (@Bali_Maha) September 4, 2018
Why Google Why?
Excuse me @Google but why are your maps showing London hotels with #Swastikas on the pins?? @TheSavoyLondon @StrandPalace @Imperial_Hotels pic.twitter.com/GtHkqlSNAO

— Andy (@IngyAndy) November 30, 2018
Hey @sheratonhotels and @googlemaps I'm in San Juan, Puerto Rico. On Google maps at the moment I'm seeing swastikas marking the Sheraton properties. What's going on here? pic.twitter.com/sFYLgnu22Z

— Jonathan Bryan (@jon_m_bryan) November 30, 2018
The company agreed that there was an error in placement at some places. In a report to HuffPost a company spokesperson said, "We're aware that these religious symbols are incorrectly displaying for certain hotels, and are working on a fix to restore the correct hotel icon to these places." He also confirmed the symbol just means a 'Buddhist symbol of worship.' So no reason to panic about the original Swastika symbol appearing on your phone.