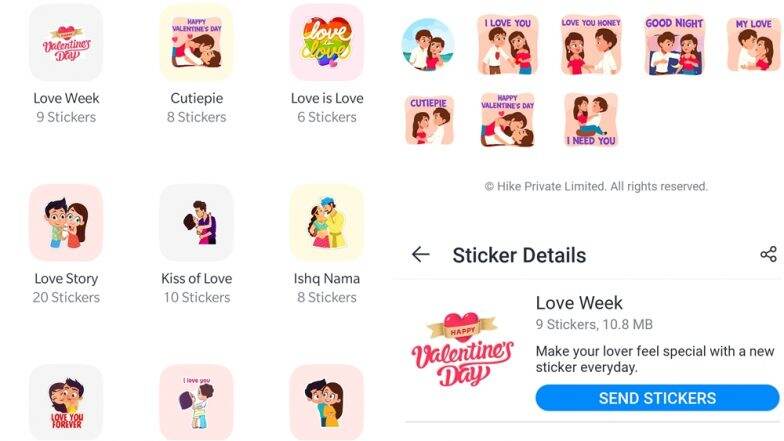 As Valentine's Day is around the corner, Hike messaging app has officially announced new animated sticker packs for the special day. This new romantic valentine sticker packs is a perfect way to express love with your special one through hearts, teddy bears, and several romantic things. This valentine's sticker packs are available on both Android as well as iOS. Moreover, Hike has also introduced a special pack for LGBT community. Valentines's Day Gifts Ideas for Your Partner Which Will Make Them Feel Romantic All Over Again.
"Stickers are one of the most loved features of Hike. Hike offers a library of over 50K stickers in 40+ languages and covering multiple genres which highlight the colorful, cultural landscape of India, Bollywood, comedy, festivals, cricket, kabaddi, local catchphrases, emotions, and even excuses. There is also the nifty text-to-stickers feature on Hike chat that can turn any message you type into a fun sticker. Stickers are expressive and a great way to say what you feel. Hike's most popular stickers reflect love, laughter and fun followed by festivals and regional references. Over 300 million stickers are exchanged every day," noted Hike. Happy Chocolate Day 2019 Wishes: WhatsApp Stickers, Instagram Photos, GIF Image Messages, SMS to Send Chocolate Day Greetings This Valentine Week.
Previously, the company officially made announcement that it will be introducing multiple apps in the year 2019. The company also mentioned that it intends to focus on the core strength of social and content by introducing multiple apps.
These new romantic stickers on Hike will be available for both Android and iPhone users. These expressive packs can be downloaded straightaway from Google Play and Apple's App store. As per the company, Stickers are one of the most loved features of Hike. Happy Teddy Day 2019 Wishes: Romantic GIFs Images, WhatsApp Sticker Messages, Greetings, Instagram Quotes & SMS to Send During Valentine Week.
The messaging platform offers a massive library of more than 50,000 stickers across 40 languages with multiple genres such as cultural landscape of India, Bollywood, comedy, festivals, cricket, emotions and much more.
Here's how you can download these special romantic stickers on your Android or iPhone –
1. Firstly, you need to download the hike messenger app from Google Play or Apple's app store.
2. After downloading and installing the application, you need to open the application.
3. Now you need to login with your mobile number by manually entering the same. You will receive an OTP for authentication. Once the OTP is entered your mobile number will be verified. (Users already using hike need to skip the first three steps).
4. Now, you can straightaway head to the Hike's library which is called Sticker shop.
5. You can download all the animated stickers you like or you would to share with the special one. Once download, you are good to send these stickers.