Guess which day it is today? The most favourite time of the year Valentine Week 2019 is here. After Rose Day, Propose Day, Chocolate Day, it is finally another favourite—Teddy Day; which is already driving the lovebirds crazy in selecting that perfect Valentine's Day 2019 gift for every specific day. Teddy bears and soft toys have been many of us best companion. The furry and cuddly soft toys have also saved many relationships. Since, February 10 marks Teddy Day in the Valentine Week 2019, we bring you the best and cutest romantic quotes to share with your lover via WhatsApp messages, Facebook, Instagram and all social media platform. Plus, the collection of Teddy Day 2019 wishes also includes Teddy Day WhatsApp Stickers, GIF image videos, animated stickers and photos to wish your bae a warm and big Happy Teddy Day. Teddy Day Adorable Quotes, GIF Images & Instagram-Worthy Captions to Share With Your Lover. 
Valentine's Day is just three days away, and the excitement runs high, and so does the pressure of making it an adorable and indulgent one for someone you love so dearly or bearly! Teddy Day 2019 is just another reminder to your significant other to express how much they mean to you. Along with the cuddly bears, some adorable 2019 Teddy Day quotes and messages will perfectly match the theme of Valentine Week 2019. You can share the 2019 Teddy Day wishes and greetings through WhatsApp, Facebook and it also makes a perfect Instagram-worthy caption for your girlfriend/ boyfriend. From Big Teddy Bears to Customised Gift Ideas to Present to Your Loved One This Valentine Week.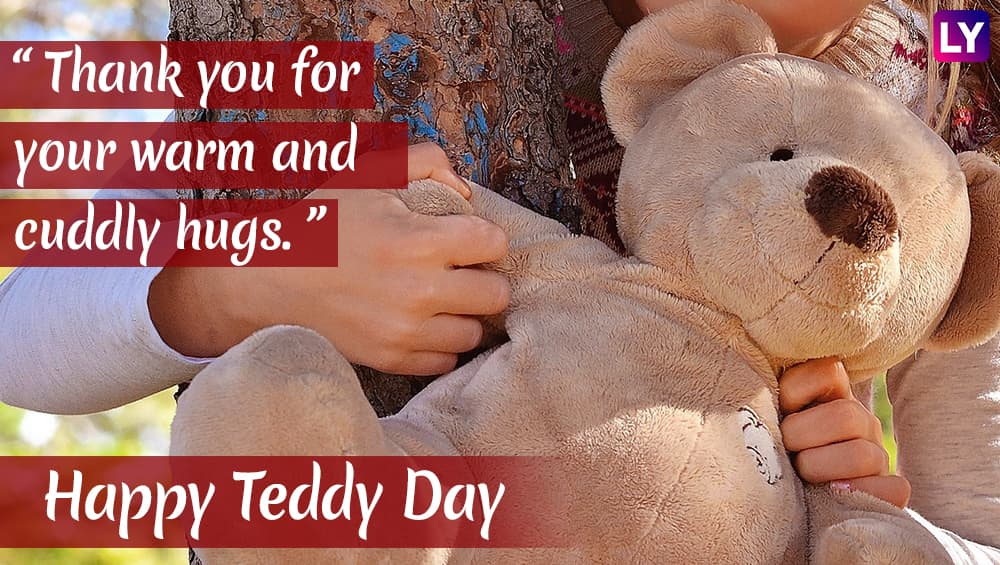 WhatsApp Message Reads: "Thank you for your warm and cuddly hugs." Happy Teddy Day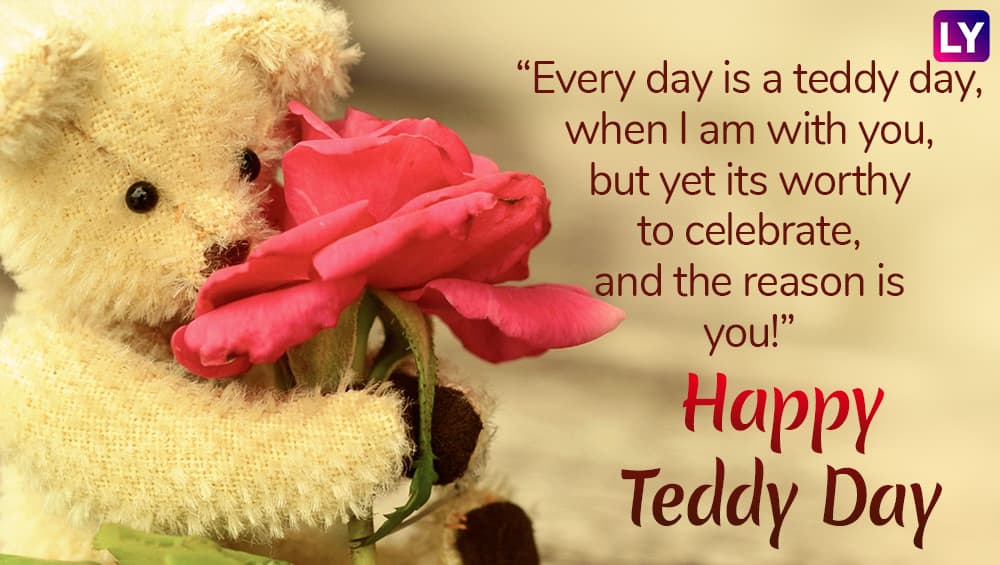 WhatsApp Message Reads: "Every day is a teddy day, when I am with you, but yet its worthy to celebrate, and the reason is you!" Happy Teddy Day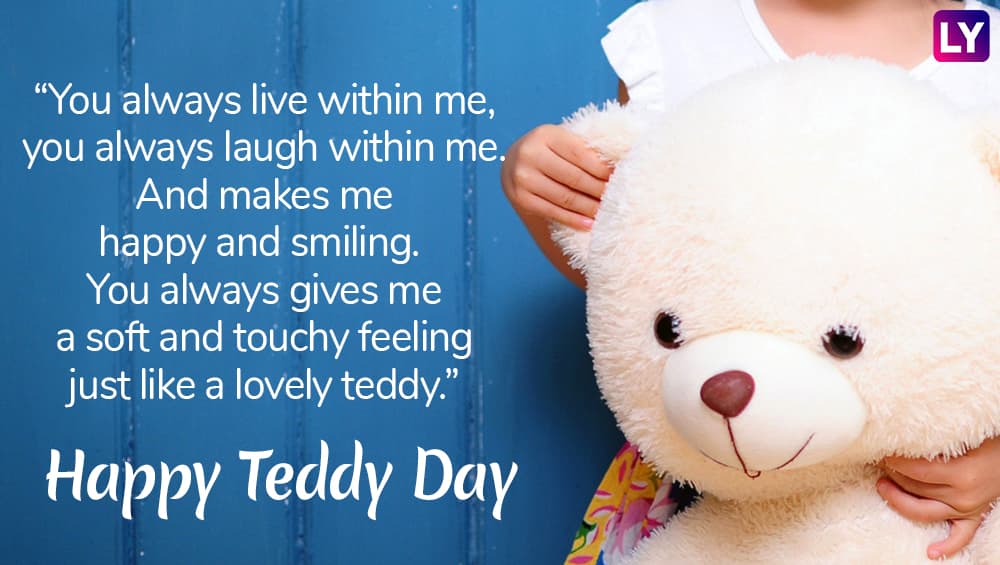 WhatsApp Message Reads: "You always live within me, you always laugh within me. And makes me happy and smiling. You always gives me a soft and touchy feeling just like a lovely teddy." Happy Teddy Day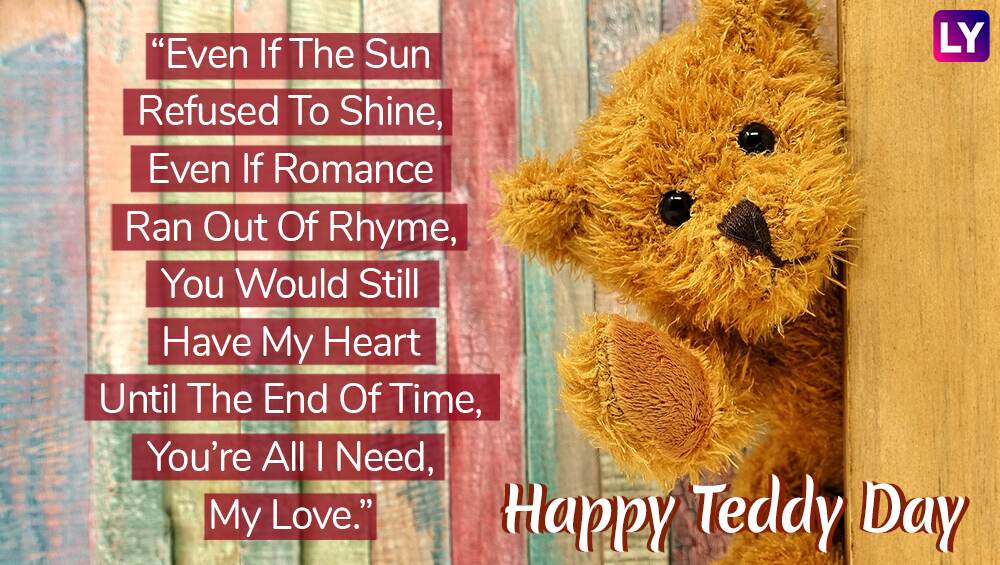 WhatsApp Message Reads: "Even If The Sun Refused To Shine, Even If Romance Ran Out Of Rhyme, You Would Still Have My Heart Until The End Of Time, You're All I Need, My Love." Happy Teddy Day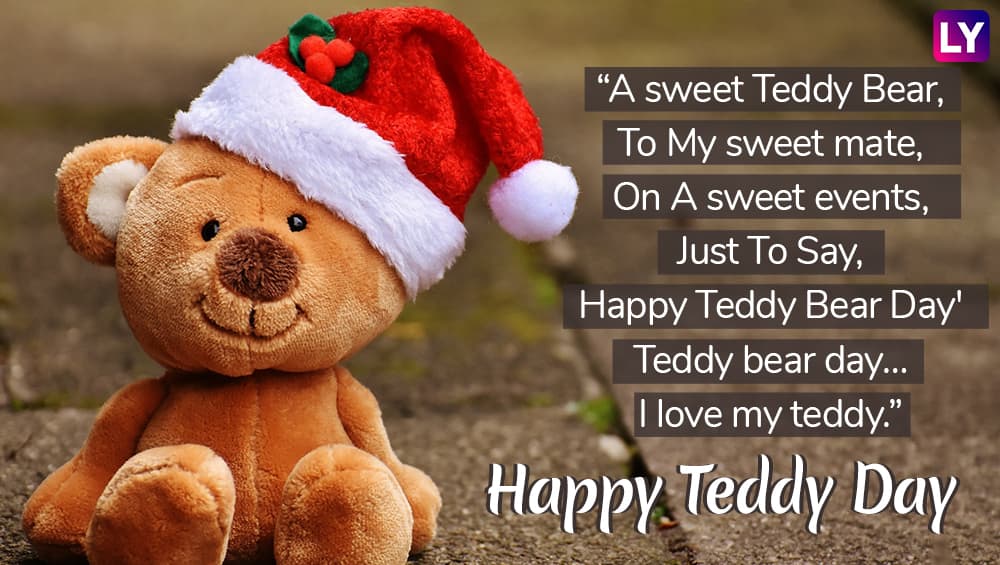 WhatsApp Message Reads: "A sweet Teddy Bear, To My sweet mate, On A sweet events, Just To Say, Happy Teddy Bear Day' Teddy bear day… I love my teddy." Happy Teddy Day
Teddy Day 2019 GIF Image: "On Teddy Bear Day, accept this message as my promise to be your cuddly bear for life with unlimited supply of hugs." Happy Teddy Day
Teddy Day 2019 GIF Image: "Teddy bears don't need hearts as they are already stuffed with love. I am your Teddy with a big heart. To my cutest cuddly wife, who is certainly my life. This teddy bear is a sign that you will be forever mine." Happy Teddy Day
How to Download Teddy Day 2019 WhatsApp Stickers?
WhatsApp stickers have just redefined the traditional way of sending romantic messages during Valentine Week. The Facebook-owned messaging app is continuously getting appreciation from its users after it came up with quirky and wonderful stickers. Each day of Valentine Week has got some beautiful emojis and labels attached to it and Teddy Day too was not left aside. You can download the 2019 Teddy Day WhatsApp stickers here. They are free and accessible through a different version of an Android device.
Valentine Week is a fantastic time of the year, witnessing the town painted in red, with stores full of cuddly teddies, fresh flowers, chocolates and so many gifts. Although, it is agreed that no couple needs a specific time to express their love to each other, it is also worth to make them feel extra special during this time. And to those who have been in a relationship for a while, Valentine's Day is the perfect opportunity to relive and rekindle the spark in a new way. Enjoy the warm hug from the cuddly bear this Teddy Day!
(The above story first appeared on LatestLY on Feb 10, 2019 06:00 AM IST. For more news and updates on politics, world, sports, entertainment and lifestyle, log on to our website latestly.com).