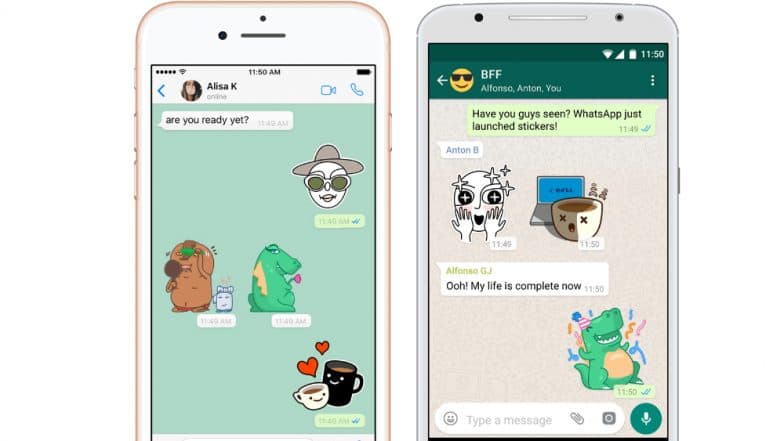 WhatsApp users' happiness is on cloud nine at the moment. And why not? After GIFs and emojis, the messaging app has finally launched super cool stickers to make interactions more fun. Now the users can impress loved ones and express their feelings accurately using these stickers. On its blog post, the company revealed that the sticker icons could be found at iOS, Android, Web and even Windows Phone. And can the users stay calm! Since the announcement, the social media platforms surfaced with #WhatsAppsStickers along with some screenshots screaming their excitement which is at its peak! However, there are a few individuals who are still clueless as to where and how they can get their hands on those stickers. WhatsApp Officially Announces Stickers for Android, iOS Users, Which Will Be Available in Coming Weeks. 
According to Channel News Asia, Android users will have to download the 2.18.329 version; whist iPhone users should update the version 2.18.100 of the app. Many on Twitter are posting their failed attempt of getting the stickers on WhatsApp. It must be noted that the new feature is slowly rolling out to other users and soon will be available in all the devices.
Quick Steps to Enable WhatsApp Stickers on Your Phone
1. At first, you need to update your WhatsApp. Android user will have to download the 2.18.329 version, and iPhone should update 2.18.100 version of the app.
2. Join the beta testing program to receive the new updates of WhatsApp.
3. Open the messaging app and select any chat or group.
4. Now tap on the emoji icon which is available on your chat screen.
5. You will see the new Stickers option right next to the GIF option.
6. To add the sticker packs, tap the plus icon.
7. Tap the download icon next to the sticker pack you want to download. Once the download is complete, a green check mark will appear.
8. Now select and send the sticker, you wish to send.
9. After you send the sticker, your friend will also get the update of the stickers.
Watch Video of How To Install WhatsApp Stickers on Android and iOS
The stickers are almost the replicas that you have used on Facebook so far. But it is always fun to use. A smiling teacup or a crying broken heart, these stickers will rightly express your feelings which words fail most of the time. As of now, you can taste the available inbuilt stickers on your phone. In the future, you will be able to send the third-party stickers too.
Yes, the designers and developers around the world can create stickers for WhatsApp. All they need to do is, publish the sticker app like any other applications on the Google Play Store or Apple App Store. Users who download and install those apps can send the stickers right from within WhatsApp. So, what are you waiting for? Update your WhatsApp now!