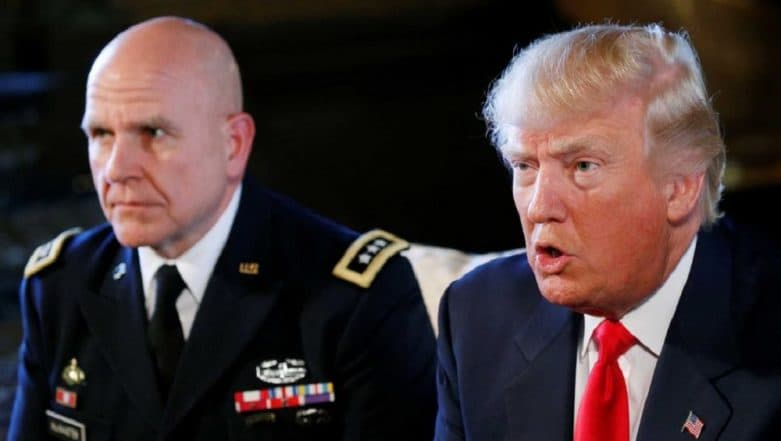 Washington D.C: United States President Trump on Thursday 'fired' his National Security Adviser (NSA), H.R. McMaster and named John Bolton as his successor, according to the White House.
In a tweet, the US President made the announcement and said that McMaster had done an 'outstanding job'.
"I am pleased to announce that, effective 4/9/18, @AmbJohnBolton will be my new National Security Advisor. I am very thankful for the service of General H.R. McMaster who has done an outstanding job & will always remain my friend. There will be an official contact handover on 4/9," President Trump wrote on Twitter.
There has been a friction between President Trump and McMaster. Last month, the former rebuked McMaster after the latter had told a national security conference in Munich earlier that there was "incontrovertible evidence" of Russian meddling in the 2016 presidential election, USAToday reported.
"After 34 years of service to our nation, I am requesting retirement from the U.S. Army effective this summer after which I will leave public service. Throughout my career it has been my greatest privilege to serve alongside extraordinary service members and dedicated civilians," McMaster said in a statement released by the White House.
A U.S. Army lieutenant general, McMaster was appointed NSA chief in February last year after President Trump fired Michael Flynn, the former head of the Defense Intelligence Agency and another three-star general.
The timing of McMaster's removal is unfavourable to say the least as it comes while the U.S. administration is a hosting a Saudi-delegation led by Riyadh's crown prince Mohammed bin Salman. McMaster's exit is the latest departure of yet another top Trump administration official announced in the last two weeks.
Larry Kudlow recently replaced Gary Cohn as the director of National Economic Council, while Mike Pompeo is set to replace Rex Tillerson as the US Secretary of State, which is still pending Senate confirmation.
John Bolton served as the ambassador to the United Nations under former U.S. President George W. Bush during parts of 2005 and 2006.
Bolton's hard edged, hawkish views on issues like North Korea, Iraq and Syria make him a controversial pick to become the next national security adviser -- particularly considering that talks with North Korea may soon be possible.
Megan Stifel, a former NSC staffer during the Obama administration responded to the news by simply tweeting: "Now I'm concerned."
After the Trump met with Bolton in the Oval Office last week, a source close to the President said: "Trump has always wanted Bolton."
HR McMaster's relationship with Trump has been rocky since the start with Trump reportedly expressing irritation with McMaster stemming from differences in "personality and style," a senior Republican source said, according to CNN.The two have never gotten along, and Trump continues to chafe at McMaster's demeanor when he briefs him, feeling that he is gruff and condescending, according to a source who is familiar with his thinking.
That frustration came to a zenith 24 hours ago after news leaked that Trump had congratulated Russian President Vladimir Putin on his recent election victory despite being directly instructed by his national security advisers not to congratulate.