Islamabad, August 6: Pakistan's Prime Minister-designate Imran Khan's dogs have made it to Wikipedia!  Yes, the pets of the cricketer-turned-politician have got their own Wikipedia page, the encyclopaedia's help desk confirmed. According to a report by The Tribune, Imran's pet dogs attracted press attention over a sufficiently significant period of time. It must be noted that the Pakistan Tehreek-i-Insaf (PTI) Chief reportedly has five dogs including Moti, Sherni, Pidu and Maximus, who live at his residence in Bani Gala, Islamabad.
Saqib of Wikipedia's help desk told The Express Tribune that his pet dogs attracted press attention, so Wikipedia decided to have a page dedicated to them. Saqib further added that Wikipedia already has several pages on United States presidential pets. "Wikipedia articles cover notable topics. If a topic or subject receives significant coverage in reliable secondary sources (independent of the subject) such as newspapers, then the topic/subject is considered notable and can have its standalone entry on Wikipedia," Saqib was quoted in the report.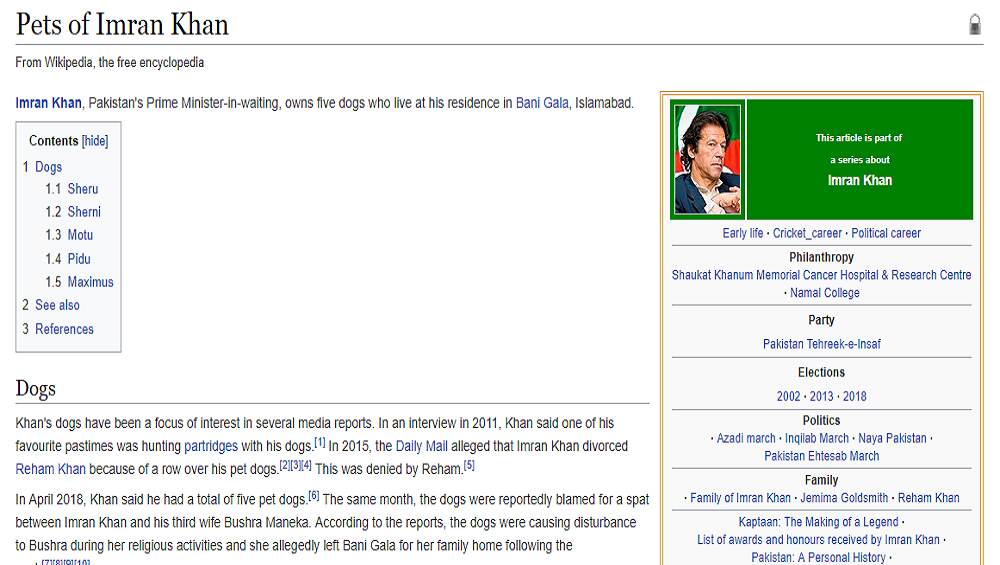 The report further informs that the page lacks basic information about the dogs like their birth dates, behaviour types or biological details, but the dogs will rise to fame and get more media attention after Imran assumes the high office. He said more information will surely pour in after Imran is sworn in as the next Prime Minister of Pakistan.
Pakistan news agency, the Daily Mail had in 2015 informed that Imran divorced second wife Reham Khan after rows over his pet dogs, but Reham denied it. According to news agency ANI, the dogs were again blamed for a tiff between Khan and his third wife Bushra Maneka in April 2018.
In July, Khan said that he will take oath as the Prime Minister of Pakistan on August 11. The PTI led by 65-year-old Khan has emerged as the single largest party in the National Assembly (NA) after the July 25 elections.