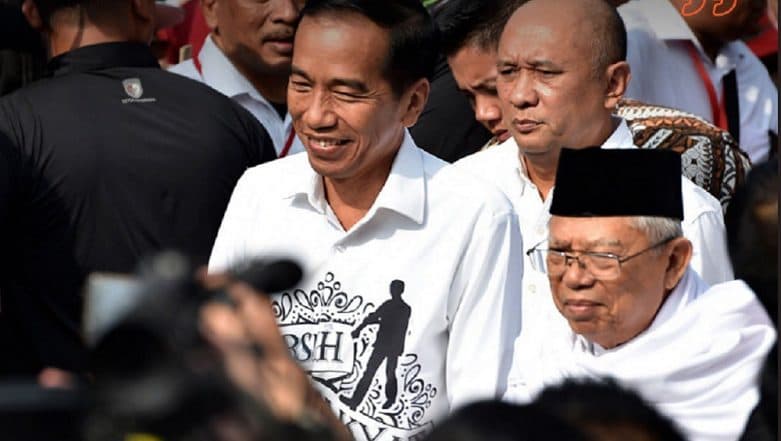 Mumbai, April 17: Over 190 million Indonesians are eligible to vote in the elections in the world's third largest democracy. The contest is between incumbent President Joko "Jokowi" Widodo and former general Prabowo Subianto.
Widodo is seen as the front-runner with polls giving him a 20 point lead over Prabowo but so was the case in 2014. Many pollsters believe even if Jokowi wins, it would be a much narrower victory as Prabowo has made inroads into Joko's supporters in Jakarta.
But what is different as compared to 2014 is the move to the right in terms of dialogue and promises. Both candidates have been striving to highlight their Islamic credentials as Indonesia is home to the world's largest Muslim population. Widodo's second-in-command Maruf Amin is a well-known conservative voice and part of Nahdlatul Ulama, Indonesia's largest Islamic organisation. Prabowo and his running mate, multi-millionaire businessman Sandiaga Uno both claim to be devout Muslims and have accused Joko of paying lip service to his Islamic credentials.
Widodo and Amin's campaign theme is "Advancing Indonesia". "I am a nationalist," Widodo said on the announcement of his candidacy in August 2018. "He is a devout religious figure. We complement each other well."
Meanwhile the Prabowo-Uno combine has promised to reduce the prices of electricity and staple foods like rice within 100 days of coming into power. It has also promised to look at all Chinese-funded infrastructure projects that have mushroomed under Jokowi's rule.
The elections come after a tough year for Indonesia -- from tsunamis and massive earthquakes to volcano eruptions -- causing extensive loss of human life and infrastructure.
Indonesia is also simultaneously conducting elections for parliamentary and regional seats on the same day. With some 192 million people eligible to vote in the 2019 elections in Indonesia, this makes it one of the most complex one-day polls in the world. More than 245,000 candidates are running for around 20,000 national and local legislative seats.
Voting is scheduled to close at 06:00 GMT and a series of "quick counts" are expected to give preliminary results within hours. However, the election commission will announce the final result only in May.