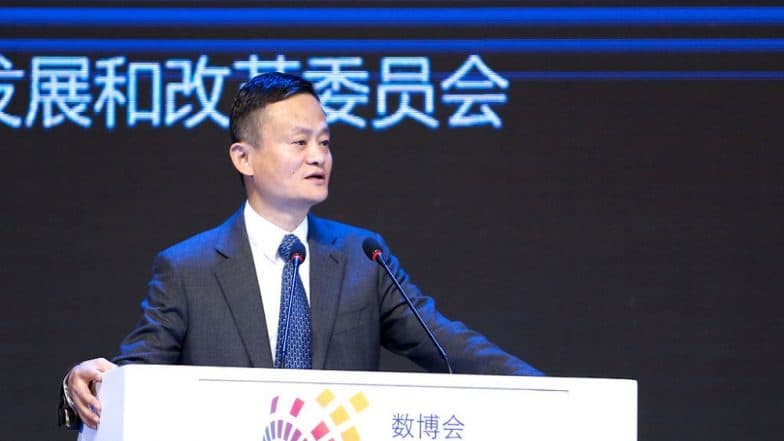 Beijing, September 10: On his 55th birthday, billionaire Jack Ma officially stepped down as Alibaba's Executive Chairman on Tuesday. According to a CNN report, he will be celebrating his retirement with a big bash at an Olympic-sized stadium in the company's hometown of Hangzhou. Jack Ma Birthday Special: Net Worth And The Success Story of China's Richest Man Who Made Alibaba Touch Great Heights.
Ma will be thus leaving his handpicked successor Daniel Zhang a daunting task of steering the $460 billion Alibaba at a time when the market for its core e-commerce business has slowed sharply. Zhang will play a pivotal role in finding new areas of growth as China's e-commerce sector matures.
Watch Video: Jack Ma Steps Down From Alibaba
Under Ma's leadership, Alibaba has grown to become Asia's most valuable listed company, with a current market capitalisation of $460 billion. Ma was honoured by the Chinese government in November 2018 as one of 100 people who had made "outstanding contributions" to China's economic transformation in the past four decades. Ma wants to spend more time on philanthropy and education and his Jack Ma Foundation would thus work towards penetrating education in all peripheries of the nation.
Alibaba has grown by leaps in the past two decades, not only dominating the market in China but also grabbing a market share in most nations of the South and Southeast Asia. However, it will be a big challenge for Zhang because of the current economic slowdown. China's online retail sales grew just 17.8 percent in the first half of 2019, almost halving from the 32.4 percent growth of the prior year, according to the national statistics office.