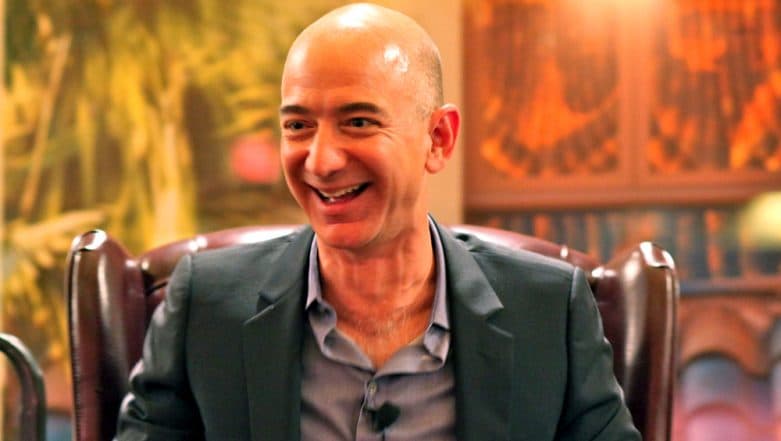 The recent pickle that the Amazon CEO, Jeff Bezos, fell into just got a twist. Jeff Bezos' lewd sexting & x-rated dick pics sent to former news anchor Lauren Sanchez had surfaced a few weeks ago in a secret operation conducted by National Enquirer magazine. This was also said to be the reason behind Amazon CEO's divorce with wife Mackenzie Bezos. However, after the controversy, Bezos has now accused the owner of the National Enquirer of "extortion and blackmail." He has alleged that lawyers for David Pecker threatened the tabloid would publish text messages and intimate images if Bezos didn't halt an investigation into how it had obtained those files. Jeff Bezos' Lewd Sexting & X-Rated Dick Pics Sent to Lauren Sanchez Surfaces - The Reason Behind Amazon CEO's Divorce with Wife MacKenzie Bezos!
In a tweet that Jeff Bezos shared the link of a lengthy Medium blog post titled- "No thank you, Mr Pecker, " was shared. The blog post contained a lot of details about the whole case that happened earlier.
Take a look at Jeff Bezos' tweet
I've written a post about developments with the National Enquirer and its parent company, AMI. You can find it here: https://t.co/G1ykJAPPwy

— Jeff Bezos (@JeffBezos) February 7, 2019
Accusing the American Media Inc (AMI), the company that publishes the National Enquirer, Jeff explains, "they had more of my text messages and photos that they would publish if we didn't stop our investigation." Soon after the tabloid published his personal messages, Bezos revealed that he retained private security consultant Gavin de Becker "to determine the motives for the many unusual actions taken by the Enquirer." Bezos further said that an "AMI leader" subsequently told him that David Pecker, the chief executive of AMI, was "apoplectic" about the investigation.
He also explained a piece of context according to him and explained, "My ownership of the Washington Post is a complexifier for me. It's unavoidable that certain powerful people who experience Washington Post news coverage will wrongly conclude I am their enemy." He said that even President Trump is amongst one of those people, as in, someone who thinks him to be his enemy.
About his part of the story, he wrote in the blog post, "My lawyers argued that AMI has no right to publish photos since any person holds the copyright to their own photos, and since the photos in themselves don't add anything newsworthy."
Bezos also published the email that mentioned that the Enquirer had obtained a "below the belt selfie — otherwise colloquially known as a 'd*ck pick.'" They had also obtained nine other images that included of a shirtless photo of him holding his phone "while wearing his wedding ring," a selfie, a "full-length body selfie" of him in his underwear, and photos and messages from Sanchez. Howard allegedly wrote, "It would give no editor pleasure to send this email. I hope common sense can prevail — and quickly."
Bezos also published an email from Jon Fine, an AMI lawyer seeking "a public, mutually-agreed upon acknowledgement from the Bezos Parties, released through a mutually-agreeable news outlet, affirming that they have no knowledge or basis for suggesting that AM's coverage was politically motivated or influenced by political forces, and an agreement that they will cease referring to such a possibility." He further said, "Be assured, no real journalists ever propose anything like what is happening here: I will not report embarrassing information about you if you do X for me. And if you don't do X quickly, I will report the embarrassing information."
He ended his post with, "Nothing I might write here could tell the National Enquirer story as eloquently as their own words below. These communications cement AMI's long-earned reputation for weaponising journalistic privileges, hiding behind important protections, and ignoring the tenets and purpose of true journalism. Of course, I don't want personal photos published, but I also won't participate in their well-known practice of blackmail, political favours, political attacks, and corruption. I prefer to stand up, roll this log over, and see what crawls out."