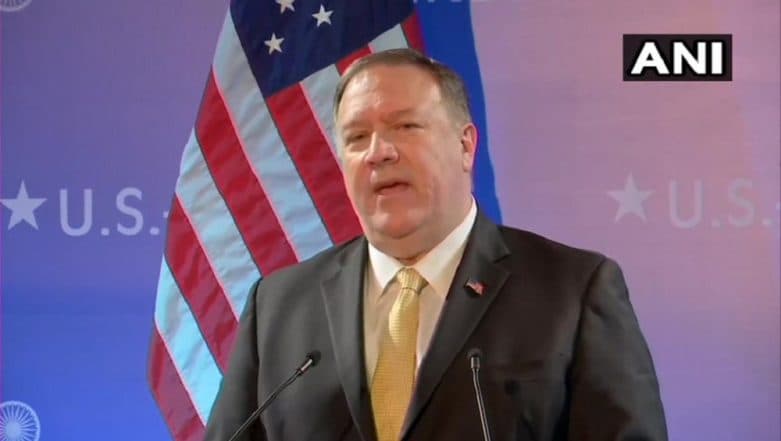 New Delhi, June 26: US Secretary of State Mike Pompeo, on his official visit to India, stressed on the need to defend religious freedom for all sections of the society. His remarks comes days after the US State Department released a report raising concern over the "mob attacks" on minorities, particularly Muslims, in the nation.
Pompeo said the need of the hour, around the world, is to defend religious rights of the minorities. If the rights are usurped by state or non-state actors, it leads to consequences, the senior Trump regime official said. Jharkhand Mob Lynching: Tabrez Ansari's Death Coincides with US Report on Religious Freedom
"India is the birthplace of four major world religions. Let's stand up together in defence of religious freedom for all, let us speak out in favour of those rights, for whenever we do compromise those rights, the world is worse off," he said while addressing a gathering at the India International Centre on Wednesday.
Pompeo's visit to India was preceded by the release of "Report on International Religious Freedom 2018" by Washington, which raised apprehensions over the alleged lack of action taken against cow vigilantes who attack as well as lynch Muslims on suspicion of bovine slaughter.
"Authorities often failed to prosecute perpetrators of cow vigilante attacks, which included killings, mob violence, and intimidation," the report said while marking caution over the state of religious freedom in India.
New Delhi had categorically rejected the charge, saying that a foreign entity or government cannot judge the status of minorities in India.
"India is proud of its secular credentials, its status as the largest democracy and a pluralistic society with a longstanding commitment to tolerance and inclusion," said Raveesh Kumar, spokesperson of the Ministry of External Affairs.
"The Constitution guarantees fundamental rights to all its citizens, including its minority communities," Kumar added.
22-Year-Old Tabrez Ansari is Latest Among Fatal Mob Attack Victims in India:
Significantly, the US report on dwindling religious rights followed by Pompeo's call for defending religious freedom comes amid the lynching of a 22-year-old Muslim man in Jharkhand. The deceased was forced to chant "Jai Shree Ram" by the mob which thrashed him for hours after suspecting him to be a thief.