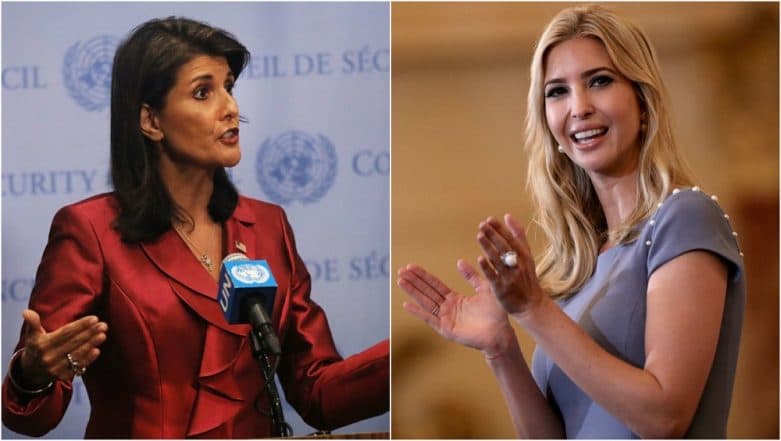 New York, January 13: With World Bank's incumbent president Jim Yong Kim submitting his shock resignation earlier in the week, speculations are rife on who would be the next leader of the globe's biggest lending institution. The list of likely contenders includes at least two names which have caught experts by surprise: Nikki Haley and Ivanka Trump.
Haley, till late last year, served as the United States' ambassador to the United Nations. Ivanka is the daughter of US President Donald Trump, and is currently serving to him as the special adviser. In 2017, Ivanka played a critical role while raising $1 billion Saudi-supported World Bank fund to promote entrepreneurship among women. India to Retain Status As Fastest Growing Economy in 2019–20: World Bank.
Apart from the two influential US women, other names making the round include David Malpass, the Treasury Undersecretary for International Affairs; and Mark Green, head of the US Agency for International Development.
A World Bank spokesperson, while speaking to a leading American financial daily, said the process of inviting application for the leader's post will begin from the next week. The Bank will subsequently take at least three months to finalise the candidate -- which would involve several rounds of consultations with the governors.
The process of selecting a new president was necessitated due to Jim Yong Kim's abrupt resignation. The US nominee, who was appointed at the Bank's helm in 2012, announced his decision to quit on Monday -- nearly 3 years before his second term was scheduled to conclude.
In the World Bank's over 7-decade-long history, the president has been a US nominee -- since America is the largest stakeholder of the lending institute. However, a change could likely be on the cards. A World Bank official, while speaking to reporters, said the selection this time would be based solely on "merit", and will be done through an "open and transparent" manner.