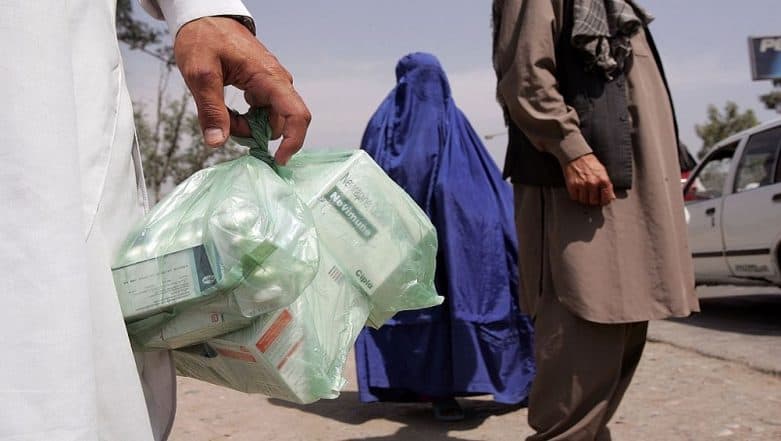 Islamabad, May 17: Southern Pakistan has been gripped under panic as an HIV outbreak has been reported in a southern Sindh village. Nearly 500 people, mostly including children, have tested positive for the AIDS virus. Authorities have pinned the blame on a local quack, who is accused of using infected syringes which led to the epidemic.
The tragic incident has been reported from Wayaso village, located in Lankara region in Sindh. A makeshift camp has been set-up by the provincial government, where dozens of people are being tested for the virus every hour from the onset of this month. Self-Declared 'Church' Sells Bleach As 'Miracle Cure' to Heal HIV
The quack, identified as Muzaffar Ghargano, has been arrested and kept detained in a makeshift jail in Wayaso, where the probing officers are interrogating him to ascertain whether he had negligently used the infected syringes or was there a malicious intent.
The accused, who has so far denied the charges, has also been tested positive for AIDS.
Sindh AIDS Control Program chief Sikandar Memon, while speaking to reporters, said officials have screened 13,800 people from Larkana. Out of them, 410 children and 100 adults tested positive for HIV.
Across Pakistan, nearly 23,000 HIV cases have been registered over the past two decades. Though the country is considered less prone to the AIDS virus, headl experts have claimed that the use of unsterilized syringes, primarily due to the inadequacy of state healthcare infrastructure in rural parts, has abated the spread of deadly disease.
Larkana, where the HIV outbreak has been reported, is the home district of one of the Bhutto family, one of the most influential political household in Pakistan. Two late former Prime Ministers, Zulfikar Ali Bhutto and his daughter Benazir Bhutto, belonged to this region.