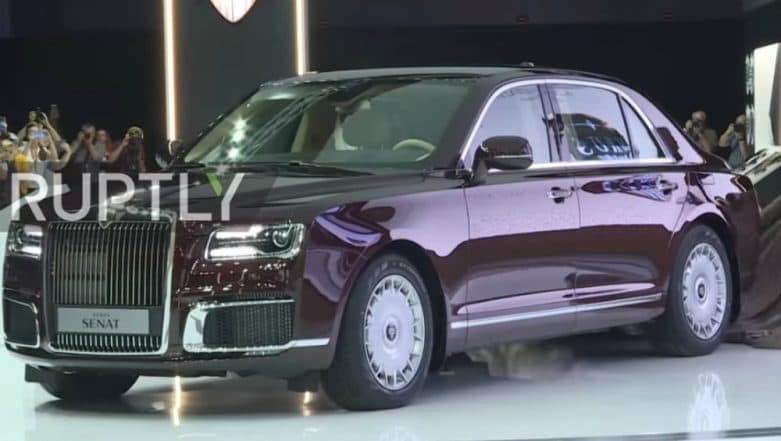 Moscow, August 30: Russian President Vladimir Putin is all set to get a new Russian-built limousine, the same luxury vehicle that the President used for his swearing-in ceremony in May. The Russia motor show also unveiled a new luxury sedan at a Moscow motor show.
The car would be Russia's attempt at showing the world its technological prowess. Russia has been trying since long to reduce its dependency on the vehicles.
Bentley State Limousine:
The Queen of England travels in a custom made car created especially for her highness. The luxury vehicle in Indian currency is priced at US $15,167,500.
The luxury car maker, gift the elegant and royal carrier to Queen Elizabeth on the occasion of Golden Jubilee in 2002.
Cadillac One:
The US President's official state car is called 'The Beast' for a reason. The limousine is 18-feet long, and weights 8 ton with armour plating on the doors. The car's value is estimated at $1,500,000.
Hongqi Limousine:
'Hongqi' means the 'red flag' in English and represents China's communist ideology. The most expensive car in China, can race from zero to hundred kilometres in reportedly 8 seconds. The price of the glorious 'red flag' is $801,624.
Jaguar XJ Sentinel:
The Prime Minister of the United Kingdom can boast of an armoured Jaguar XJ Sentinel. It is the official vehicle of the UK's top leader. With its titanium body, bullet-proof glass and other sleek features, the Jaguar XJ Sentinel seems to be straight out of a bond film. The car is priced at $455,025.