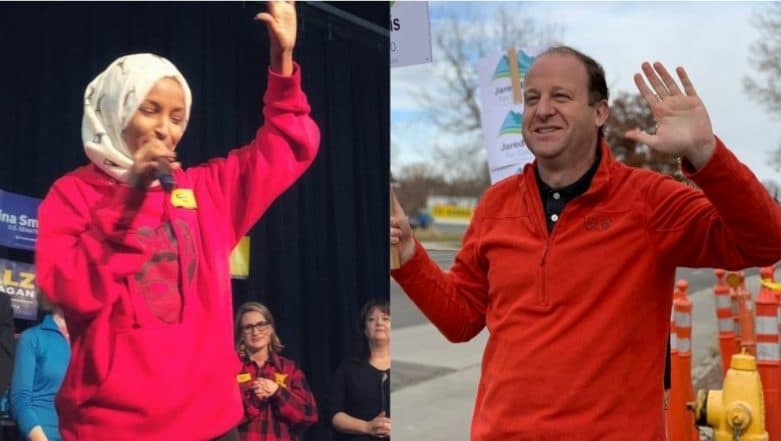 Washington, November 7: The US midterm elections 2018 results not only brought Republicans in Senate and Democrats in House of Representatives, but it also saw historic victories for women, minority and LGBTQ candidates. Two Muslim women were elected to the US Congress for the first time. A Democrat who openly admits that he is a gay is elected Governor for the first time.
Palestinian-American Rashida Tlaib and Somali-American Ilhan Omar become the first Muslim women elected to US Congress. Tlaib won from Michigan's 13th congressional district, while Omar won Minnesota's fifth congressional district. Tlaib made history in 2008 by winning a seat on the Michigan Legislature, becoming the first Muslim woman to do so. US Midterms Elections 2018 Results: Contests in High-profile Races Remain Tight.
Following the victory, Omar tweeted: "Congratulations to my sister @RashidaTlaib on your victory! I cannot wait to serve with you, inshallah." In Colorado, Democrat Jared Polis was elected Governor, becoming the first openly gay person to be elected governor in America. Kate Brown, a bisexual, was the first openly LGBTQ person elected governor when she won in 2016.
Kansas Democrat Sharice Davids became the first Native American woman elected to Congress, defeating Republican incumbent Kevin Yoder. 38-year-old Davids is an attorney by training and a former mixed martial arts fighter. She is also openly lesbian. US Midterm Elections 2018 — Top Questions Answered.
Safiya Wazir, whose family fled persecution from Taliban in Afghanistan, defeated Republican Dennis Soucy to earn a seat in New Hampshire House of Representatives. Americans were voting for all 435 seats in the House of Representatives and 35 of 100 seats in the Senate - the two bodies that make up Congress. Governors are also being chosen in 36 out of 50 states.