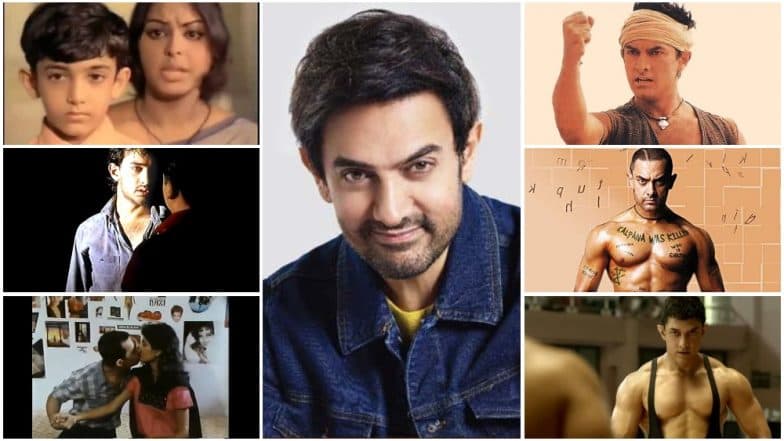 He may be entering his 54th birthday in an unusually low turn of his career, but Aamir Khan is an actor on whom you won't really call off your bets. There is a reason why he has earned the tag of Mr Perfectionist and no debacle of Thugs of Hindostan can put this man down. Aamir may not be announcing his next movie any time soon, even though rumours about the Forrest Gump remake and the Mahabharata project get heard every now and then. However, we are sure that what he is planning to do next will be something really special. Aamir Khan to Reprise Tom Hanks' Role in the Hindi Remake of Forrest Gump.
Why, we think so? 'Cos Aamir himself has promised us that! The superstar has completed more than four decades in this industry as an actor and has delivered some of the biggest hits in the industry. His Dangal is the fifth highest grossing non-English movie in the world and the highest earning sports movie of all time. Not to mention, the highest earning Indian movie at the box office, if you consider both domestic and international. And that's just one movie!
In this special feature, we look at the many 'Firsts' in Aamir Khan's career, starting right from his debut as a child actor to a superstar par excellence. Also, Many Many Happy Returns of the Day, Mr Perfectionist!
First Movie Appearance - Yaadon Ki Baaraat 
Aamir Khan had played the young Tariq in his uncle Nasir Hussain's film.
First Adult Role, Also First Kiss - Holi
The movie also had quite a few debutants who would make big in future like Ashutosh Gowariker, Raj Zutshi, Neeraj Vora, Kitu Gidwani, Amole Gupte et al.
First Hit - Qayamat Se Qayamat Tak
Interestingly, Qayamat Se Qayamat Tak is neither Aamir Khan's debut movie, nor Juhi Chawla's as wrongly perceived. Juhi had made her debut in the movie, Sultanat. Akshay Kumar, Aamir Khan, Vicky Kaushal and Other Celebs Respond to PM Modi, Appeal Fans To Vote During Lok Sabha 2019 Elections.
First Filmfare Nomination and Award (Best Debut) - Qayamat Se Qayamat Tak, Raakh
Raakh, where Aamir Khan also received Special Mention at National Awards, was signed before QSQT, but got released later.
First Cameo - Pehla Nasha
Pehla Nasha, that was Ashutosh Gowariker's directorial debut, also had Shah Rukh Khan and Saif Ali Khan cameo in the same scene.
First Filmfare Award for Best Actor - Raja Hindustani
By the time Aamir Khan got his first Filmfare Award for the Best Actor, he had stopped going for Indian award functions by then. The reason was speculated that he was unhappy for being snubbed the previous year for his performance in Rangeela, and feels popular award shows are merely tools for appeasement.
First Movie as Playback Singer - Ghulam
Aamir Khan also got nominated for Best Playback Singer (Male) award at Filmfare next year.
First Negative Role - 1947- Earth
Aamir's role in Aatank Hi Aatank and Raakh had shades of grey, but his role in the Deepa Mehta film was his proper negative role.
First Production, Also the First National Award Win and First Oscar Nomination - Lagaan
Unfortunately, Lagaan lost at the Oscars to No Man's Land, and yet the nomination was a huge achievement for Indian cinema.
First Film as Director, Also First Filmfare Award for Best Director - Taare Zameen Par
Interestingly, Amole Gupte was to direct Taare Zameen Par first, before Aamir Khan took over. Controversially, at that!
First Rs 100 crore Hit - Ghajini
Also the first Indian film to do so!
First Rs 200 Crore Hit - 3 Idiots
3 Idiots was also a huge hit in China and established Aamir Khan's legacy there.
First Rs 300 Crore Hit - PK
Ranbir Kapoor, who had a cameo in this Rajkumar Hirani film, later played the lead in his next, Sanju. Aamir was approached for Sunil Dutt's role (later played by Paresh Rawal), which he declined.
First Pure Voiceover Role - Dil Dhadakne Do
Aamir Khan voiced Pluto, the family dog of the Mehras.
First Movie to Cross Rs 2000 Crore Worldwide - Dangal
BTW, also the only Indian movie to make that record. His subsequent release after that, Secret Superstar, also did tremendous business in China, even though it had Aamir in an extended cameo and did limited business in India. BTW did you know that Aamir Khan had received an award for 'National Treasure of India' from the Government of China?