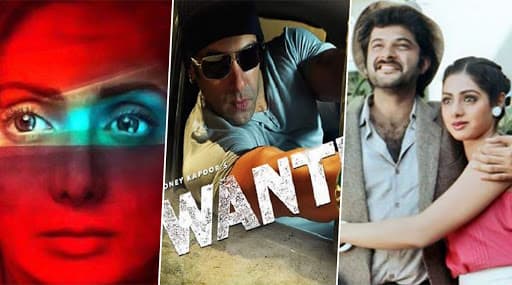 Boney Kapoor these days is talked about more for his family time with his daughters and son. After Sridevi's death, they have come together to be a strong family. But on his birthday today, we will talk only about the movies that he produced which we will always remember. In fact, many of them are guilty pleasures that we just can't do without. Boney Kapoor has produced a lot of movies and diversity in his filmography is truly inspiring. Thala 60: Ajith's Next with Boney Kapoor Officially Titled 'Valimai'
If there's a Mr India, there is also a Woh Saat Din or Hamara Dil Aapke Paas Hai and much more. Yes, it also includes a movie called Roop Ki Rani Choron Ka Raja which almost made Kapoor go bankrupt but that doesn't erase the amazing movies that he produced. Our personal favourite is Judaai...
But hold on...there are so many more and thus we have a list of suggestions for you from Kapoor's filmography.
Mr India (1987)
It has to begin with Mr India or we shouldn't even do this article. It is a story of a man called Arun who takes care of orphaned kids and one day comes across an invention which could make a man go invisible. How we wished we had that watch! Mr India is till date one of the most precious films that Kapoor has ever produced. We can't thank him enough for that.
Woh Saat Din (1983)
Anil Kapoor's debut film is a remake of a Tamil film Andha 7 Naatkal, and was also the premise on which Hum Dil De Chuke Sanam was loosely based. The genuineness and simplicity of this film will stay with you forever. This film was produced by Boney Kapoor and his father Surinder Kapoor.
Raat (1992)
Boney Kapoor was the presenter of this ghostly Ram Gopal Varma classic. We still can't get over the look Revathy had on her face when she turns to look at a companion in one of the scenes. It's one of the best horror movies ever made in the history of Indian Cinema.
Judaai (1997)
Judaai is everything we never thought 90s will ever represent. It has a woman selling off her husband for riches and then staying with his new family. We are not sure if we can call it progressive cinema but it definitely was daring. It was a remake of a Telugu film Shubhalagnam.
Sirf Tumi (1999)
In today's age of smartphones and Whats App messages, the essence of writing a love letter is lost. Sirf Tum was all about that. The wait for the letter, the reads and re-reads, the attempt to read between the lines to know what we want to hear, letters were such in those days. This film was thus brilliant in its storytelling!
Hamara Dil Aapke Paas Hai (2000)
Before you get shocked by the choice, let us tell you that this film deserves a dekko. The scene where Anil Kapoor slams people for shaming a rape victim played by Aishwarya Rai Bachchan, is still fresh. Every word he says will make you clap for him and we commend Boney Kapoor for bringing this to Hindi Cinema from its Telugu original Pellichesukundam. It is a brave film once again!
Company (2002)
Many may not be aware that one of the producers of Ram Gopal Varma's Company was Boney Kapoor. One of the best gangster movies of India, Company was class apart. With a heady mix of cast like Ajay Devgn and Mohanlal, it was also the debut venture of Vivek Oberoi. We still go back to this cult whenever we need a dose of good Bollywood gangster movies.
No Entry (2005)
No Entry had Salman Khan playing a playboy, in fact, he played a married playboy. Though we can't call it a great film, it did have its moments which are still cherished.
Wanted (2009)
This film has been credited to revive Salman Khan's box office fortunes which he is enjoying even today. It has been 10 years already! Boney Kapoor surely has a hand in giving him that boost at a time when his films were not fairing well at all.
Mom (2017)
Probably Sridevi's last film before she left us for heavenly abode, Mom is a tale of a mother who goes to any lengths to seek revenge against the people who raped her daughter. It's a grim tale executed perfectly. Boney Kapoor does have a knack of picking up movies which can say a lot about our society.