Will he attend or will he not? While it was a known fact that India's Prime Minister Narendra Modi was sent an invite for the glamorous wedding reception of Priyanka Chopra and Nick Jonas in the capital city, this picture puts all the speculation rest. Modi makes his grand presence felt at one of the most talked about wedding of the year. Clad in a grey Nehru jacket Modi was seen shaking hands with the newlywed couple and congratulating them on their journey ahead!
He even posed for the cameras as the guests looked on at this mighty frame. PeeCee's mother too shared the stage as indeed the frame where Modi is seen chatting with the Nickya . Priyanka Chopra and Nick Jonas' weddings were a huge thing on the internet. Such is their popularity across the globe. The first pictures from their Christian wedding and Hindu wedding ceremonies have won the internet. Priyanka Chopra-Nick Jonas Wedding: Here Are More Pictures From The Newly-Weds' Album
The PM, who was escorted on stage by Priyanka's mother Madhu Chopra, was dressed in a white kurta-pyjama with a black Nehru jacket. He remained on stage for about 10 minutes, meeting Nick and Priyanka's families with folded hands and exchanging pleasantries. Priyanka Chopra and Nick Jonas' Wedding Reception PICS OUT and They Look BREATHTAKING! 
Priyanka introduced her brother-in-law Joe Jonas and his to-be-wife, "Game Of Thrones" actress Sophie Turner, to Modi saying: "Inki bhi shaadi hone waali hai (They are also going to get married)."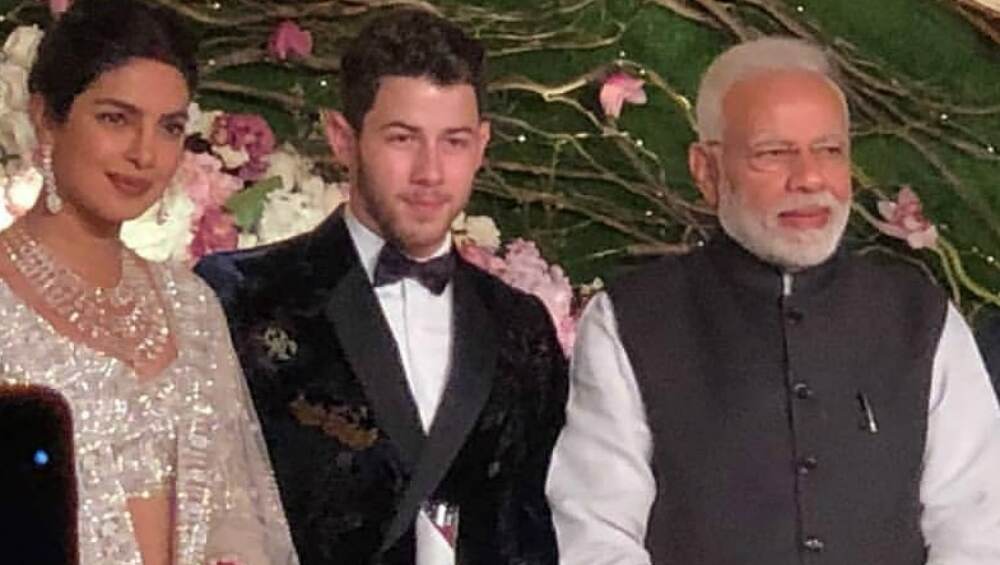 The couple of the night posed with panache. Priyanka dazzled in an elegant white bejewelled ensemble with a multi-layered diamond necklace and earrings, with her hair neatly tied in a bun complete with white roses. She flaunted the "chopra" -- traditional red bangles worn by a Punjabi bride -- and sported vermillion. Nick was dressed in a velvet dinner jacket and completed the look with a bow tie.
The venue, the Durbar Hall at the Taj Palace Hotel, was done up elegantly with exotic white and soft pink flowers, and the "NP" icon, which has remained a staple throughout the couple's wedding, stood out on the elaborate stage. Candles flickered away at different spots of the venue which was enlivened by the sound of live music and a free flow of cocktails and a wide variety of food.There was also an element of quirk with a vintage car which read "Just Married".
Guests, which mostly included Priyanka's family members, also saw veteran designers Ritu Kumar and Ritu Beri, along with Fashion Design Council of India (FDCI) President Sunil Sethi, in attendance.
Speaking of the extravagant wedding, the Bollywood beauty told People.com, "It was all tears. All tears. I could not hold it in. I think I was nervous and scared. But as soon as the curtains opened, and I saw his face it was just like everything settled and I knew I was making the best decision of my life."
-With Agency Inputs