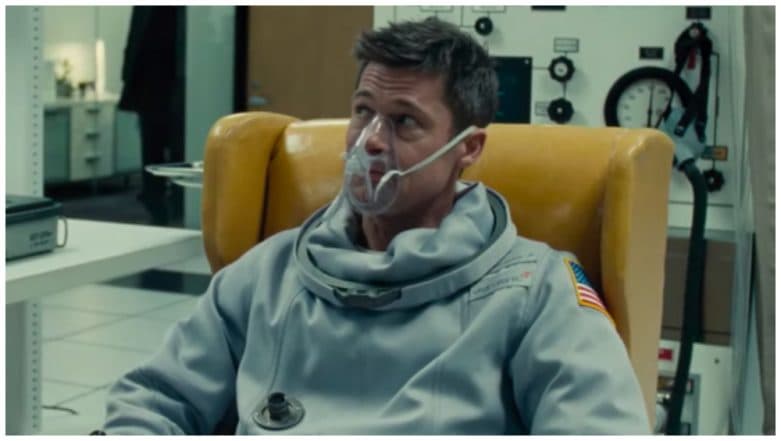 The first trailer of Brad Pitt starrer Ad Astra created quite a buzz on the internet with its very first trailer. The movie - a space thriller - directed by James Gray opened at the ongoing Venice Film Festival 2019. The critics have loved the movie alike with the director raking up most of the praises. In the futuristic movie, space travel and colonisation on Mars has been commercialised. Brad plays an astronaut, Roy McBride, who leaps through the vastness of space looking for his missing father. Other than the spectacular visuals, the movie is also being praised for the story that is at heart. In an interview, Brad has said that Ad Astra is a personal film about masculinity. Here is a rundown of what the critics are saying about the film.
Empire wrote, "This film is beautiful: from the glistening cinematography to artfully celestial framing to the seamless visual effects (some shots use actual photos of the moon's surface), it all looks real." Ad Astra: Brad Pitt Starrer's New Poster Reminds Us of These Space Films!
"Hoyte Van Hoytema's cinematography, Kevin Thompson's production design, and Max Richter's score all achieve a stunning kind of symphony," Vanity Fair wrote, adding, "Pitt's gravitational pull does a lot of work for Gray's film, which struggles to breathe in the deliberate airlessness of its design."
Praising the director, Variety wrote, "He handles the vast logistical challenges of staging an epic space adventure with a surefire hand and a sense of detail, pace, and control that are notably accomplished, if not quite Kubrickian. Gray proves beyond measure that he's got the chops to make a movie like this."
The Guardian wrote, "Ad Astra is so deadly serious that it verges on the silly; so immaculately staged and sustained that it sweeps us up in its orbit," adding, "Ad Astra pitches from full-blown horror to the thunderclap of closure."
Indie Wire wrote, "Even with a linear narrative that never slows down, a chase sequence that feels like "Fury Road" on the moon, and a suspenseful vision of the galaxy that makes room for any number of unexpected surprises (beware the claw marks inside a seemingly abandoned spaceship), "Ad Astra" is still one of the most ruminative, withdrawn, and curiously optimistic space odysseys this side of "Solaris." It's also one of the best."
Ad Astra will open in theatres on September 20, 2019. We are eagerly looking forward to watching it. Stay tuned to LatestLY for more updates.