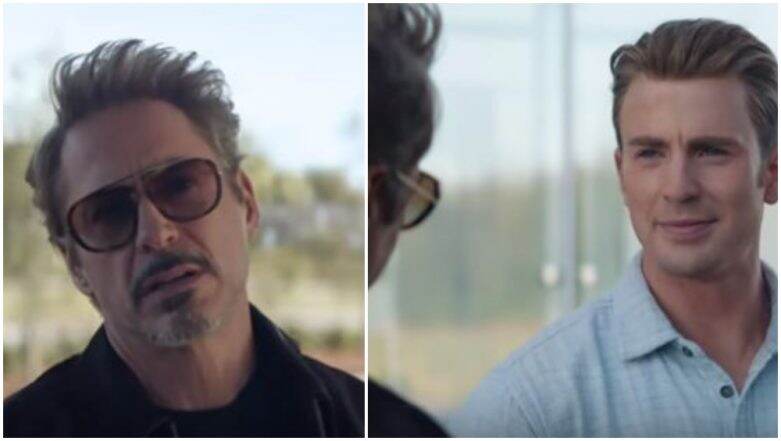 Even though we really don't need it, Marvel has been generously posting TV spots or little teasers of Avengers: EndGame. Yes, most of the scenes are somewhat recycled stuff from the earlier trailers. But occasionally, there is a scene or two that would be brand new and it would leave us talking about what's the significance of the sequence the whole day. The same can be said about Marvel's new TV spot for Avengers: EndGame called "Powerful". Avengers Endgame New Clip: Iron Man Flicks off Ant-Man Like a Bug and We Are in Splits – Watch Video.
It begins with Black Widow's narration of how she had nothing before and now she has this family. Which then changes to how the surviving superheroes should take a stand for their fallen comrades (and avenge for their deaths with Thanos). The scenes that follow are the ones we have seen before, though there is one moment towards the end of the promo that's entirely new.
The scene has Tony Stark aka Iron Man tell Steve Rogers aka Captain America, presumably at the Avengers facility, that he missed the 'kiddie optimism'. Perhaps, Tony is referring to Cap's positive enthusiasm when it comes to his briefing speeches. Avengers: Endgame BEATS Aamir Khan's Thugs of Hindostan to Sell the Costliest Ticket for Rs 2200.
Watch the new teaser of Avengers: EndGame below:
Avengers: EndGame is the culmination of the 21 movies that came before in the Marvel Cinematic Universe. The movie stars Robert Downey Jr, Mark Ruffalo, Scarlett Johannson, Don Cheadle, Chris Evans, Paul Rudd, Chris Hemsworth, Brie Larson, Karen Gillan, Bradley Cooper, Jeremy Renner, Gwyneth Paltrow and Josh Brolin. Avengers: EndGame is directed by Anthony and Joe Russo and is scheduled to release on April 26 in India.