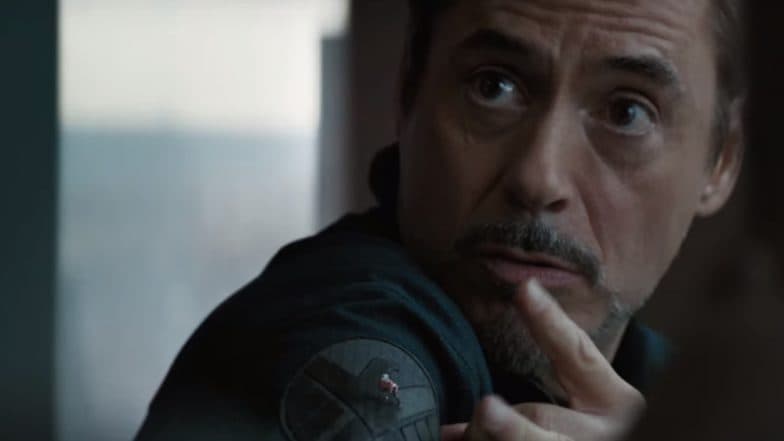 It is so tough to contain excitement at the moment. Avengers: Endgame is only 7 days away from its worldwide release. And the makers are not going easy on the fans. Marvel Entertainment just released a new promo with a couple of new clips, while most of the promo uses the footage we have seen in the previous trailers. Talking about the new stuff, we see Iron Man/Tony Stark (Robert Downey Jr) and Captain America/Steve Rogers (Chris Evans) have a conversation where the former hopes that they do not die trying to bring balance back to the universe. It is a sort of a funny take as you'd expect Iron Man to say something more inspirational than this. Avengers EndGame: Robert Downey Jr the Only Marvel Star to Get the Full Script, Reveal Russo Brothers, and We Are Hardly Surprised by That!
The clip that stands out is Tony Stark flicking off Ant-Man (Paul Rudd) from his shoulder. It is hilarious to watch and we cannot wait to learn the context of this attack on Ant-Man. Avengers: Endgame New TV Spot is all about Superheroes Planning to 'Take it All Back' (Watch Video).
Watch the new promo of Avengers: Endgame below:
The previous trailers of the movie have shown us, Captain Marvel, having a staring battle with Thor. Iron Man, Captain America, Thor arriving on Titan to fight Thanos. And a bunch of superheroes taking off to space, with Groot requesting them not to throw up in his ship.
Avengers: Endgame is the 22nd film in the MCU and takes place right after the events of Avengers: Infinity War and Ant-Man and the Wasp, taking the story forward. The band of superheroes will reunite to defeat Thanos, once and for all. Also, they hope to bring back everyone who was wiped off from existence in Infinity War back to life.
Avengers: Endgame has been directed by Joe Russo and Anthony Russo. The movie is scheduled to release on April 26. As per reports, tickets will be available in India from April 21.