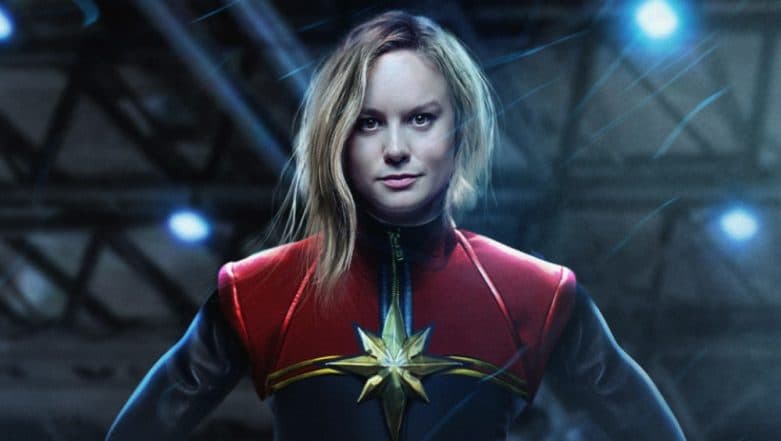 So here comes the day we all were waiting for. The premiere of Brie Larson's superhero movie, Captain Marvel was held in New York last night and the reactions for the same are out already. Recently we made you aware of the harsh comments that are flooding the movie's page on Rotten Tomatoes. The one where the users are calling it an average movie that revolves around a female character. However, going by its first reactions, Marvel's latest offering looks like a winner already. Yes, the early reactions for MCU'S first female superhero movie are out and they are only POSITIVE. Captain Marvel New Poster: Brie Larson As The Badass Superhero Soars High Above Planet Earth!
Brie Larson as Captain Marvel is bold and badass. Like every MCU movie, this one too is loaded with humour and some exciting surprises that will make us all jump with joy. What's better? Well, critics are relating to Brie's on-screen character very well. The future of MCU seems to be in good hands after Captain Marvel opens to such whistle- worthy reactions. We aren't making up this stuff and it's definitely not the fangirl in us talking. Check out these initial reactions that will make you root for this superhero already.  Captain Marvel New Promo: Brie Larson as the Superhero is Here to Stop Skrulls from Infiltrating the Earth - Watch Video.
Yay!
Captain Marvel is a blast! Has some cool surprises that I definitely didn't see coming, and the mystery/origin it weaves is engaging and fun. Brie Larson is awesome, and makes a fantastic first step into the MCU #CaptainMarvel pic.twitter.com/oqrRtgDQrp

— Eric Eisenberg (@eeisenberg) February 20, 2019
Wow!
#CaptainMarvel is a welcome addition to the #MCU. The movie is really well done with some great moments. #benmendelsohn steals almost every scene he's in. @brielarson literally shines in the role. So ready for #AvengersEndGame pic.twitter.com/GET0socRjl

— Steven Weintraub (@colliderfrosty) February 20, 2019
Get ready for some nostalgia
#CaptainMarvel was a lot of fun! Just enough '90s nostalgia without overdoing it. Brie Larson is great. Ditto Sam Jackson & Ben Mendelsohn. Goose the cat is purr-fect. Some nice surprises and clever decisions throughout. Cool sci-fi elements. And funny! Thumbs up! pic.twitter.com/PzzxXir8pZ

— Jim Vejvoda (@JimVejvoda) February 20, 2019
Friends???? Is it a spoiler?
Despite explosive action, #CaptainMarvel is a character piece & Brie Larson's Carol Danvers does not disappoint. She crushes it, despite having only 10 mins of screen time sandwiched between full episodes of America's favorite sitcom, Friends. Can't wait to see her lead Phase 4!

— Ben Mekler (@benmekler) February 20, 2019
Oh, we can so relate to this tweet
#CaptainMarvel is (takes deep 90s breath) TOTALLY AWESOME. Never related to a Marvel character quite like Carol. She's the stubborn witty 90s kid I like to think I am. pic.twitter.com/H6Q9s90KHA

— Ash Crossan (@AshCrossan) February 20, 2019
Seems like Marvel's best offering so far
#CaptainMarvel has a great '90s sci-fi vibe w/ a tone unlike any other Marvel movie, really. It's retro & trippy, mysterious & dorky. It's funny in surprising places & badass in all the right places. It remains entertaining because it's always changing. It's got the right stuff pic.twitter.com/o7AvqYY63x

— Erik Davis (@ErikDavis) February 20, 2019
Purr - fect
The future of the MCU gets even brighter adding #CaptainMarvel to the mix. Really fell for @brielarson's sass, strength & energy in the role. Same with @LashanaLynch too! Ben Mendelsohn is A+ casting as Talos. And yes, Goose is a scene stealer. 2nd viewing can't come soon enough.

— Perri Nemiroff (@PNemiroff) February 20, 2019
Oops! 
#CaptainMarvel: Well, Thanos is fucked.

— Angie J. Han (@ajhan) February 20, 2019
Captain Marvel is touted as MCU's strongest superhero and a key to defeating the Mad Titan - Thanos. Earlier in February last year, Black Panther also had fallen prey to such angry and hate reactions like Captain Marvel. While Chadwick Boseman's film went on to smash many records at the box office, we hope Brie Larson's outing too is able to follow its footsteps. Okay, enough said. When is March 8 coming really?