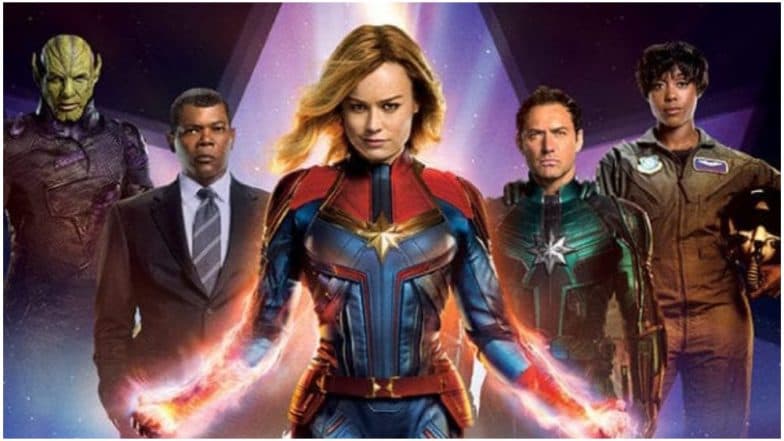 Seems the long wait to catch Captain Marvel shining on the big screen is going to get tiring with each passing day. After the makers unveiled some new posters and a TV spot of Brie Larson taking the charge as Marvel's new superhero, they are back with a new one and that's only making us eager beaver. The new footage brings back the focus of Samuel L. Jackson as Nick Fury and his amusing interactions with the superhero who's here to save the Earth from infiltration of the shape-shifters Skrulls. The ones who don't know who they are, well they're the longtime Marvel race of shapeshifting extraterrestrials. Captain Marvel New Poster: Brie Larson As The Badass Superhero Soars High Above Planet Earth!
While the makers of the movie have previously teased how these Skrulls will disguise themselves as the locals of the Earth, the new promo takes the same highlighting a step ahead. Captain Marvel meets Nick Fury on our planet and reveals the real purpose of her visit. With a few exciting shots and a tease about their comic timing, it's quite safe to say that this new offering won't be any different from their previous ones. You will chuckle and root for this superhero right till the very end. Captain Marvel New Super Bowl Teaser: Higher, Further, Faster, Baby! The New Teaser Shows A New Side Of Brie Larson As The Fiesty Superhero.
Watch the new promo right below
Captain Marvel is unarguable Marvel's most powerful superhero or that's what they want us to believe. The story revolves around how Ms Danvers - an airforce pilot becomes the universe most powerful superhero and finds herself in the middle of a galactic war between two alien races. While its previous trailers were loaded with nail-biting moments, the recently released short promo takes us excitement a notch higher. When is March 8 coming really?