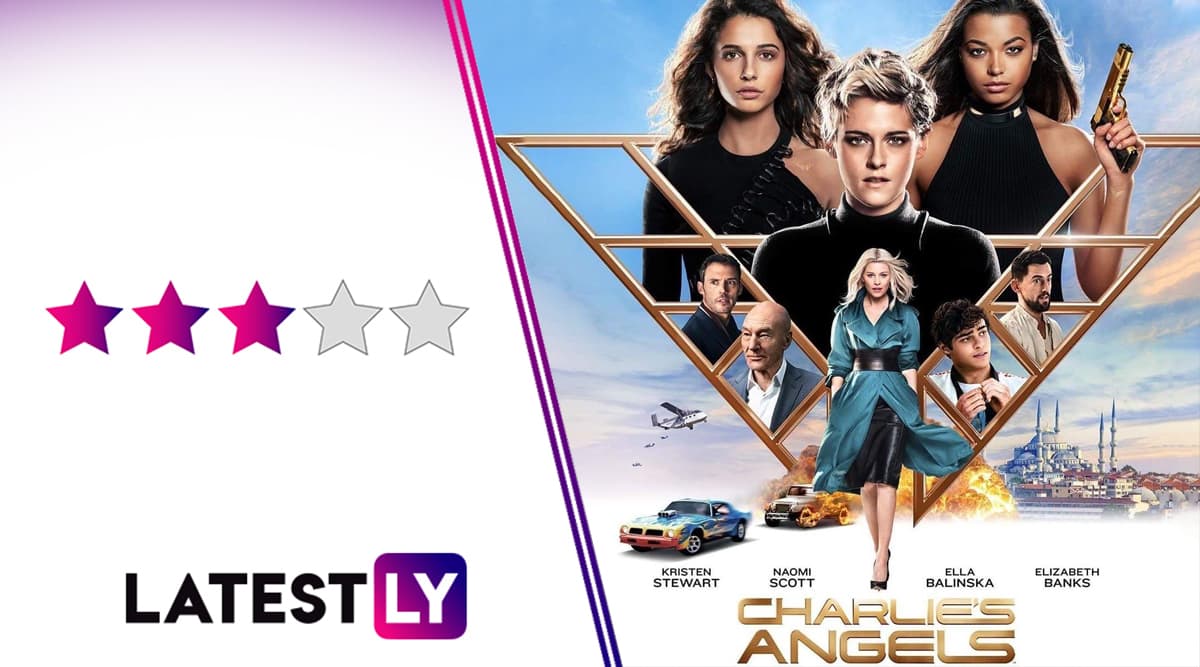 I am a huge fan of Charlie's Angels (you can judge me if you want) and I mean the version that starred with Cameron Diaz, Lucy Liu, and Drew Barrymore. The movie that released in 2000 was probably one of the good ones that came out that year. It was also a box office winner and that was enough for Elizabeth Banks to propose its reboot! But is it enough to excite fans of the original? That's a different question. For someone who has adored the original movie, this was a fascinating yet a scary piece of news. What if Banks goes wrong with her version? What if her angels aren't able to step seamlessly into the worthy shoes of Diaz,  Liu and Barrymore? The thoughts kept piling until I had an opportunity to attend its screening on a hot Thursday afternoon. And ... (takes a deep breath) fortunately, this reboot was able to make me smile. Kristen Stewart Makes For An Ultra Chic Muse For Vanity Fair Magazine - View Inside Pics From The Shoot!
Charlie's Angels, as we all know or have seen in the trailer, is a story of three badass women who fight crime with the help of a millionaire. The story here revolves around Elena (Scott), a young computer scientist who's working on a new technology called Calisto. However, her world turns upside down when she's made aware of how easily it can be weaponised. What follows next is a roller coaster ride where Scott pays a heavy price for being a whistleblower while Sabina (Stewart) and Jane (Balinska) are assigned a mission to protect her at any cost. Charlie's Angels New Trailer: Kristen Stewart, Naomi Scott, Ella Balinska Mean Business and are High on Action in This New Promo (Watch Video).
Charlie's Angels is an out-and-out female-oriented action movie that serves its purpose. It's thrilling in some parts and comical in others. Banks does a phenomenal job with her direction and she proves a point that action as a genre isn't an uphill task for her. All the three leads, or should we call them Angels, leave an impact (one is slightly less impactful but more on that later) on your mind though it's Kristen who deserves an extra round of applause for her comic timing. The angels may look pristine and fragile but their kicks are enough to give you nightmares for the rest of your life. Action director has done a commendable job in directing stunts that'll make you scream and jump with all the excitement. There's a saying: "Girls who can run in heels should be feared." And Charlie's Angels, well, they do more than just running.
Check Out The Trailer Of The Film Below:
Coming to another crucial department -- costumes. If you hire a woman who has previously worked as a costume designer for Matrix and Aquaman, you have a winner amongst you already. Kym Barrett nails their styling so well that she ensuring no matter what the Angels are wearing -- shorts, cargos or elegant dresses--, they can kick a$$ effortlessly. The Angels shine like never before and it's not too late before men realize that they are the devils they should fear. Stewart, Balinska and Scott light up the screens with their mere presence and their too-hot-to-handle attitude is just like an icing on the cake.
What really works in the movie's favour is Banks' ability to keep emotions at bay. It's a feel-good movie in the end that brings a faint smile to your face while you're virtually patting the backs of the Angels. Also, I couldn't find anything to hate about the film. Dislike, maybe; but not hate.  I remember the last time I was this excited about a group of girls going badass in a movie was for Oceans 11. Sadly, it didn't live up to my expectations, but this one did fairly well.
Speaking about its negatives, Charlie's Angels isn't flawless. It has its own share of not-so-good moments and the chemistry between these girls could have been better. Though their screen presence is splendid, yet the trio together isn't able to excite you enough. Stewart and Balinska still manage to make their camaraderie work but Scott is a weakling among them. She even gets annoying at times. Their lukewarm chemistry certainly bogs the film down.
Also, what's with the show-off? So, we know Angels like any other spy agency are well equipped and have enormous resources at their disposal. You don't need dialogues like, "So you are still on closet number one (meaning this is just the beginning)?" The audiences are well versed with how self-sufficient the organisation is.
The main antagonist is another major drawback here. Though you may or may not see the twist coming, its impact was short-lived for the character wasn't well written. I can understand the thought process behind it but its execution needed more grooming.
Performance
Kristen steals the show with her comical and entertaining act and she's a revelation. She has great comic timing, something that she should explore more often. Balinska as the no-nonsense young lady is equally delightful. She hits the right notes while looking attractive and striking a chord with her viewers. Naomi too is charming in her role as a damsel in distress. But she does get pesky in some scenes.
Patrick Stewart as one of the Bosleys is fine and so is Noah Centino. Jonathan Tucker is however slightly more impressive. He's the aggressive yet attractive big bad guy whose mission is to track down the Angels. He was a worthy opponent, but our girls were more skilled.
Yay!
-Elizabeth Banks' Direction
-Popcorn Entertainer
-Kristen Stewart
-Action Scenes
-Jonathan Tucker
Nay!
-  Lack of Chemistry Between the Leads
-Antagonist
-Naomi Scott
Final Thoughts
Charlie's Angels has its heart (if not mind) in the right place. It's an entertainer where you don't challenge physics or any of its laws. Go in with a happy mind and you will probably come out happier. I surely did.
P.S. Watch out for some cameos!