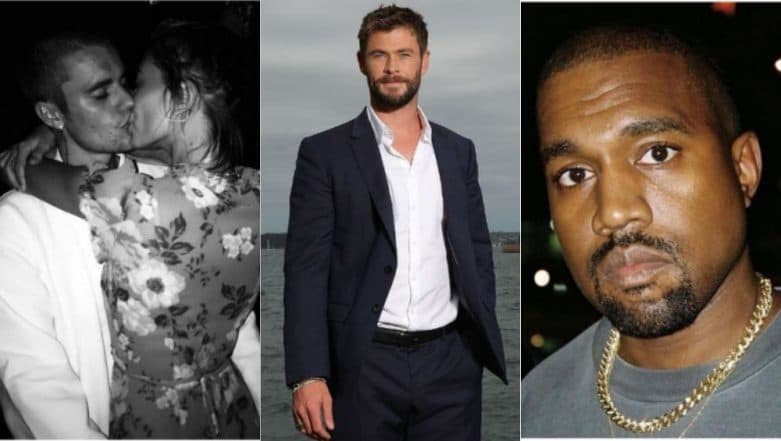 Bollywood's Deepika Padukone and Ranveer Sngh's wedding wasn't the only big thing that took over the entertainment industries. The demise of Marvel genius Stan Lee, Justin Bieber's post proclaiming Hailey Baldwin as his wife, Narcos' Diego Luna, Michael Pena, Eric Newman flying down to India for a press conference along with Alia Bhatt and Shakun Batra and more. A lot of stuff did happen in Hollywood too! With that, let's quickly jump to the best gossips and news from the West.
Hollywood legend Stan Lee passes away
— stan lee (@TheRealStanLee) 12 November 2018
Hollywood lost one of its biggest and most celebrated celebrity, Stan Lee, on November 12. Various celebrities bereaved and poured in well wishes for the star's family. Every tweet or Instagram post had a sweet Excelsior! by the end of it.
Justin Bieber calls Hailey Baldwin his wife
View this post on Instagram
On 17th November, Justin Bieber shared a cute picture with Hailey Baldwin captioning, "My wife is awesome," confirming his marriage to the model. They managed to break the internet not just with the image but also with it's engaging caption.
Hailey Baldwin changes her name to Bieber
View this post on Instagram
After Justin's post, Hailey also took to Instagram and changed her name from Hailey Baldwin to Hailey Bieber. She also followed a Selena Gomez fan page but soon unfollowed it. Both the young stars have been taking the internet by storm!
Chris Hemsworth finishes shooting for Netflix in India
Hollywood star Chris Hemsworth on Saturday said the India portion of the shoot for "Dhaka" has been wrapped up, but according to sources the Netflix film's team is still to finish the portions in the country.
Game of Thrones season 8 month of release revealed
The official handles of HBO released the month of release of Game of Thrones season 8. Slated to release in April 2019, more scoop on the same will be released soon.
People's Choice Awards 2018 big wins
The People's Choice Awards 2018 took place last week and saw major wins by Avengers: Infinity War and K-Pop boy band BTS. The boy band and superheroes from the Marvel universe took home majority of the accolades. View all the award winners right here.
Nick Jonas talks about the time when he was first diagnosed with diabetes
On November 17, Nick Jonas took to his Instagram to share a juxtaposing picture collage of himself from the first time he was diagnosed with diabetes and a recent click. His post said, "13 years ago today I was diagnosed with type 1 diabetes. The picture on the left is me a few weeks after my diagnosis. Barely 100 pounds after having lost so much weight from my blood sugar being so high before going to the doctor where I would find out I was diabetic. On the right is me now. Happy and healthy."
#MeToo founder Tarana Burke says f*%k Hollywood
#MeToo founder Tarana Burke lashed out at Hollywood for making the movement about them. She quoted, "You know how many people say, 'The #Metoo movement — well Hollywood's got it.' F--k Hollywood. Every time somebody asks me how I feel about them taking my movement, I say, 'You can't take s--t that's mine. This is not about Tarana Burke owning something. This is about a community that I have lived in, worked in, given my blood sweat and tears to. This is our movement. Stop opting out of it."
Ezra Miller's Playboy photoshoot
Ezra Miller's Playboy photo shoot was sexy, risqué and every bit gorgeous! Wearing bunny ears with kitschy but highly promiscuous clothes and 14-inch long stilettos, Ezra totally nailed each and every look with utmost panache. You can check out the looks right here!
Narcos season 4 released
On November 13, Netflix hosted an event to announce that they're returning for season four. The event was graced by Diego Luna, Michael Pena and Eric Newman in Mumbai. Even Alia Bhatt joined the Narcos table along with Shakun Batra. The fourth season released on Netflix on November 16.