The Little Mermaid Movie Review: The main problem with the latest Disney live-action remakes is that none of them can justify their existence. There's really no need to retell these stories in a way that destroys the original's magic, and even so, I decided to give The Little Mermaid a shot because there's no way you could mess this up. The recipe for success was right there: a traditional and serviceable tale brought to life by some engaging visuals, entertaining musical numbers, and brilliant performances. But I suppose Disney failed to look at the cookbook because all it serves up is a nice-looking food platter that is devoid of all and any salt. The Little Mermaid Song Part of Your World: NewJeans' Danielle Shows Off Her Beautiful Vocals in New Video for Korean Dub of Halle Bailey's Disney Film! – Watch.
Directed by Rob Marshall, The Little Mermaid is a live-action remake of the classic Disney animated film of the same name. The plot follows the young and curious Princess Ariel (Halle Bailey) of Atlantica, a mermaid who is fascinated by humans, as she falls in love with Prince Eric after saving him from a shipwreck. However, because her father, King Triton, does not trust humans, she must make a bargain with the evil witch Ursula, who takes away her voice in exchange for giving her legs so she can explore the realm beyond water. Unfortunately, Ariel quickly finds herself in a heap of trouble as Ursula's deal isn't exactly what it seems like.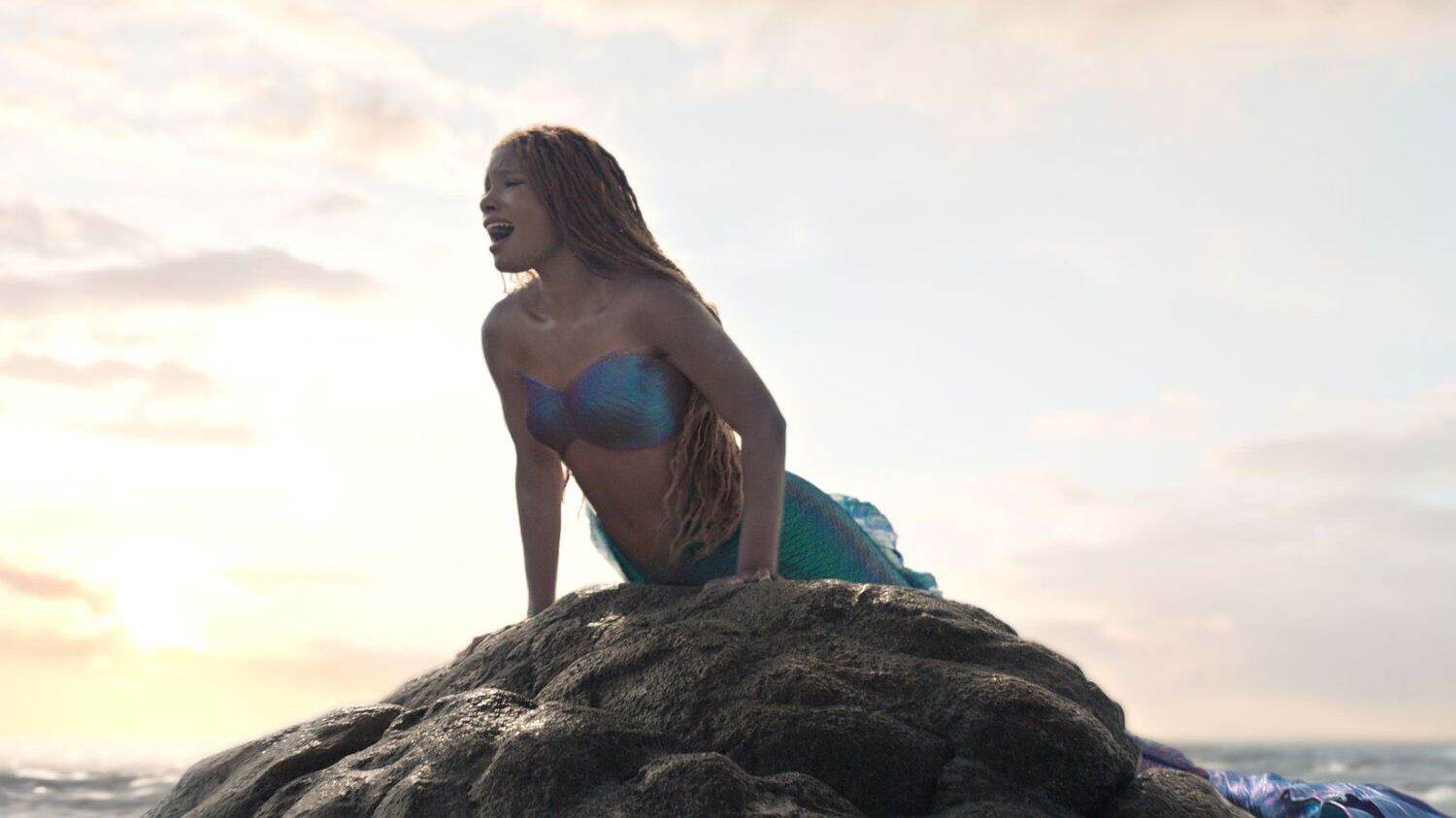 The main issue with The Little Mermaid is that it stretches a nicely laid-out framework while adding nothing meaningful to it. It's the same narrative you saw in 1989, and it hasn't been updated in any meaningful way since. If you've already seen the original, you're not missing out on anything. I kept thinking that the story could have been fleshed out more, but it doesn't do anything intriguing. It's almost as if the writers went out of their way to avoid imprinting their personal mark on it.
Ariel's journey of finding who she is and bridging the gaps between two cultures was unforgettable back then. The original The Little Mermaid used every second of its 89-minute runtime to deliver an impactful story, but the remake lengthens the runtime and makes for a laborious watch. It's stuffed with fluff to lengthen its runtime, and I was bored for much of it. There is a lot of extraneous conversation that doesn't seem to fit into the movie at all.
Watch the Trailer for The Little Mermaid:
As Princess Ariel, Halle Bailey does her best to carry this mess on her back. It's an inspired performance that compliments Jodi Benson's original voice. Her musical numbers are fantastic, and this will undoubtedly propel her to stardom; nevertheless, you can't help but sense that the impact of her performance is negatively influenced by the nature of the film. Jonah Hauer-King on the other hand is dependable and presents for a conventional male lead in the role of Prince Eric, whose charming good looks are only let down by some underwhelming vocal cords, and Javier Bardem as King Triton is underutilised alongside Melissa McCarthy's highly entertaining Ursula.
The Little Mermaid's CGI characters are also disappointing. The animals in this film, like in Favreau's version of The Lion King, strive for realism to the point where they lose any emotional appeal. Flounder (Jacob Tremblay) appears to be an ordinary fish, Sebastian (Daveed Diggs) is a crab, and Scuttle (Awkwafina) appears to be a regular bird. There is no pizzazz to them. This actively influences their actors' performances, as their voices just do not fit the stoic looks of their characters.
This is a problem with all of the Disney remakes thus far since there is no vibrancy. It appears like Disney is so preoccupied with achieving hyper-realism in its films that it has forgotten the allure of the original animated films. Atlantica appears to be something out of a nature documentary. The CGI is impressive, to be sure, but it lacks imagination. It's just an undersea coral reef, and I didn't feel awed by it. Janhvi Kapoor Loves 'The Little Mermaid', Steps Into The Magical World of Princess Ariel (Watch Video).
The ending too wraps itself up in an extremely anticlimactic way and there was nothing of substance to hold on to. "Under the Sea" was an appropriate song for the movie because that's exactly where Disney dropped the ball. Overall, it was a disappointing time.
Yay!
Halle Bailey as Ariel
The CGI
Nay!
Feels Bland
Ending is Anti-Climactic
Can't Justify Its Existence
Final Thoughts
The Little Mermaid is just another disappointing entry in Disney's increasing number of live-action remakes. Halle Bailey certainly shines, but the padded screenplay, combined with hyper-realistic visuals that can't compensate for the animated magic of the original, is what pulls this remake down. The Little Mermaid releases in theatres on May 26, 2023.
(The above story first appeared on LatestLY on May 24, 2023 10:00 AM IST. For more news and updates on politics, world, sports, entertainment and lifestyle, log on to our website latestly.com).