It's the 21st century and hands down the internet plays quite a major role in our lives. The same is with our sensational celebrities who stay connected with their fans via social media. While social media is surely a boon, it can sometimes get super ugly. Nah, we are not talking about trolls here at all, as what Hollywood star, Zoe Saldana went through on Instagram recently is insanely bad. It so happened that the Avatar star took to her IG and slammed an Insta page who has been posting her nude pictures. The fake pictures shared along with the post sees Zoe all nude sitting near a sofa. Avengers: Endgame Star Zoe Saldana Shares a Topless Throwback Picture on Instagram and It is Too Hot to Handle! 
Zoe in her latest social media update claims the nude photos posted by _made_for_eachother to be morphed and fake. Along with revealing the page's identity, Saldana in her long post mentioned that she has already reported the profile. "I have never, nor will I ever have pictures like these taken of my body or myself. This is not a real picture for anyone reading this. This is violating, offensive and insulting for women. I will report you immediately, let it be known I am no victim and I do not suffer in silence," a part of the actress' post read. Thugs of Hindostan: Katrina Kaif Copying Zoe Saldana's POTC Dialogue Was the Cringiest Moment From Aamir Khan's Box-Office Bomb!
Check Out Zoe's Instagram Post Here: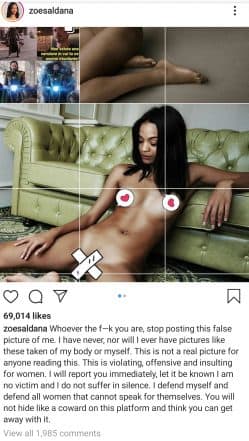 Well, we laud the actress for putting up such pictures of herself on social media along with shaming the Instagram profile who is behind the derogatory act. For the unversed, Zoe is an American actress who has appeared in MCU's Guardians of The Galaxy (2014) as Gamora. Stay tuned to LatestLY for all such viral news.
(The above story first appeared on LatestLY on Dec 01, 2019 12:10 AM IST. For more news and updates on politics, world, sports, entertainment and lifestyle, log on to our website latestly.com).