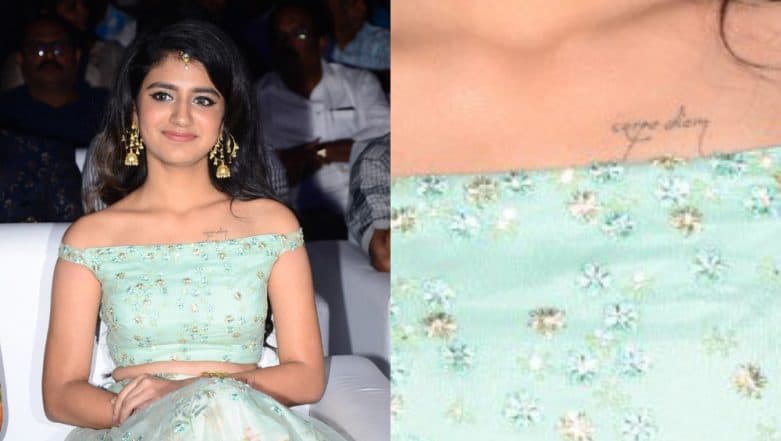 Priya Prakash Varrier could sure use some positive promotion at the moment. So, here we are doing ut bit. The actress was spotted at an event yesterday and her pictures have gone viral again. The girl was born to be viral on the internet. First with her wink, then Sridevi Bungalow and now this. The reason for her latest virality is her new tattoo that she is flaunting in an off shoulder dress. The actress has 'Carpe Diem' tattooed above her chest. Sridevi Bungalow Controversy: Priya Prakash Varrier Defends Her Movie, Says 'Curiosity Surrounding the Trailer Is Good'.
Carpe Diem simply means to live in the moment. It is Latin for 'seize the day'. Priya was at the audio launch of Oru Adaar Love, which is releasing in Telugu as Lovers Day. Also present at the event was Allu Arjun. Check out Priya's cool pictures here:
#PriyaVarrier #latest Stills @ #LoversDayAudioLaunch #LoversdayOnFeb14 #LoversDay

Gallery: https://t.co/Q2bvEXxz5w pic.twitter.com/oMT7mzGkLH

— Videos Now (@VideosNowOffl) January 24, 2019
Priya Prakash Varrier first shot to fame after a clipping from her debut movie, Oru Adaar Love, went viral on the internet. All she did in that video was raise her eyebrows and wink at a boy. And the internet found her to be monumentally cute. So much so that she became a household name overnight.
She followed up the success with what we could only call a PR disaster. The first teaser of her next film, Sridevi Bungalow, was released a few days back and received a response colder than Antarctica from her fans. The internet was upset over the fact that the plot of the movie resembles the life and death of legendary actress Sridevi.