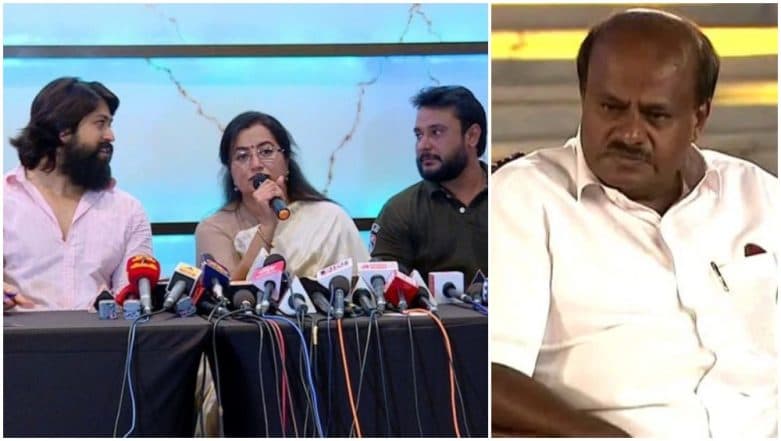 As India nears the 2019 Lok Sabha elections, the game of accusations and slandering is going to get murkier. Recently, Kannada star Yash, popularly known among his fans for his lead role in KGF Chapter I, and his brother actor Darshan earned the ire from Karnataka Chief Minister HD Kumaraswamy. This has a lot to do with the actors' open support for former actress and politician Sumalatha. Sumalatha is contesting for the elections from Mandya, Karnataka as an independent candidate. This is the same constituency from where Kumaraswamy's son Nikhil is also contesting as a Janata Dal (Secular) candidate. Yash and Srinidhi Shetty Starrer KGF Chapter 2 Goes on the Floor With a Customary Pooja in Bengaluru.
Yash and Darshan had held a media interaction where they declared their support for Sumalatha. They even said they would work like bullocks for her campaign and help her win the elections. This didn't go down well with Kumaraswamy who slammed the actors and basically called them useless bullocks.
In a rally, Kumaraswamy trolled both Yash and Darshan saying, "This pair of bullock is not meant for ploughing the field but to raid farmers' crops. What do they know about the difficulties of farming?" He had a special dislike for Darshan, as he added, "There is a video circulating on WhatsApp about his comments about people of Mandya. It is below my dignity to talk about the words mentioned in the clip. If the people listen to it, they will not let him enter Mandya." KGF Actor Yash Confirms That Sanjay Dutt is Approached to Star in the Sequel.
Check out the video below:
Kumaraswamy didn't stop there, as he took further digs at Darshan's acting career. He said, "What is that? Challenging Star? Apparently, he's not scared. And, D Boss! He's a D Boss only in the cinemas." We wonder how the brothers are going to react to these statements made by the Karnataka CM.