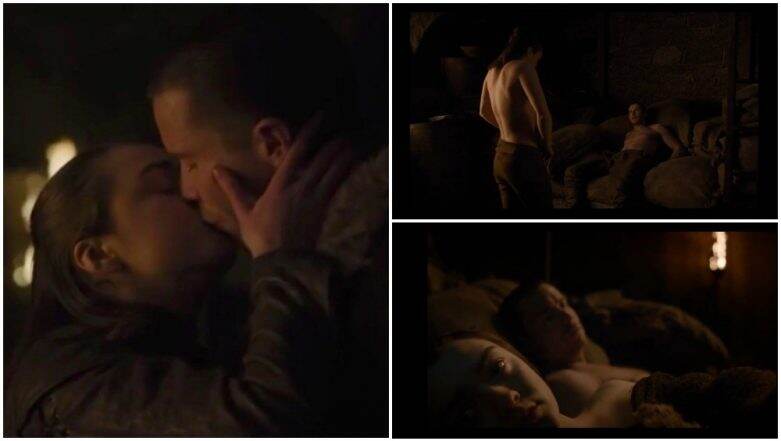 HBO really can't seem to plug in their leaks when it comes to Game of Thrones, can they? As with every season, the second episode of the final season of Game of Thrones got leaked to torrents websites, somehow. And as expected, there have been plenty of spoilers on the internet thanks to the leak. So if you are one of those Game of Thrones fans wanting to watch the official episode, please do not go on social media. Or read ahead. For this post is filled with some major SPOILERS! Game of Thrones Season 8 Episode 2 Full LEAKS on Torrents Ahead of Official Airing; Fans Tired of HBO's Lack of Anti-Piracy Measures – Read Tweets.
So apparently, the biggest moment of the second episode is the shocking sex scene between Arya Stark (Maisie Williams) and Gendry (Joe Dempsie). It would have been the moment of jaw-dropping bonkers for many a GoT fan. The last thing on their mind when the Long Night is dawning upon the heroes is Arya losing her virginity,
Unfortunately, thanks to the episode leak, the scene (or rather the screenshots and gifs) also made it to social media.
LEAK: Arya Stark will be pregnant and this is how House Stark/Baratheon lives on. Gendry tells Arya about his own King's Blood for a reason in Episode 2.#gendrya #GameofThrones pic.twitter.com/7mqBJhm07Z

— SOKSt (@SokSSSok) April 21, 2019
Thank you, HBO, for ruining this big moment by not plugging in the leaks! In the past too, many episodes of Game of Thrones have been leaked on to torrents websites before the official streaming. With the eighth season being the finale, we expected HBO to be more careful. Well, we were wrong in thinking so. Game of Thrones Season 8: A Fight with the Night King's Army and Jamie Lannister Cursing his Stars, Here's What You Can Expect from Episode 2.
Talking more about Arya and Gendry, all the avid watchers of the show know how little Arya had a fascination for Gendry since season 3. In fact him being forcibly taken away by Melisandre, is the reason why the red-haired witch and even Beric Dondarrion find a place in Arya's kill-list.
So when Arya meets Gendry in the first episode of season 8, she surprised the viewers by outrageously flirting with him. But did anyone expect her, whom we have seen as a child since season 1, to have sex with him? A Girl Has No Name Definitely Had Feelings!