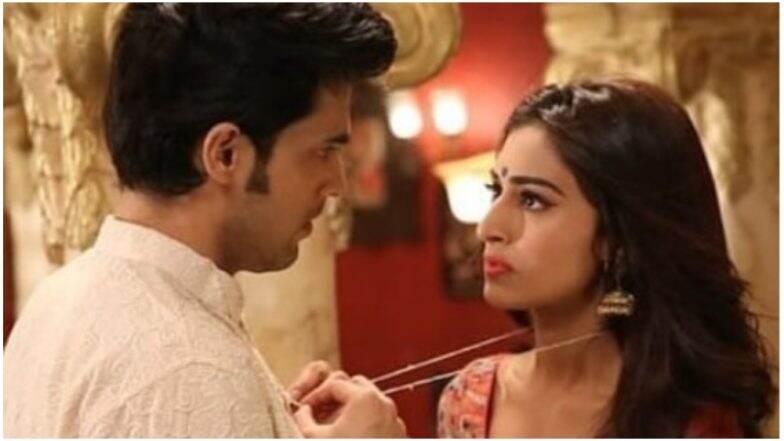 Today's episode of Kasautii Zindagii Kay 2 starts with Komolika (Hina Khan) telling Prerna (Erica Fernandes) that she is standing in her house and telling that she wants to talk to her husband and that too alone. Prerna asks Mishka did Komolika had an accident before, as she cannot hear anything at one go. Komolika gets angry and tells that she can hear everything. Anurag (Parth Samthaan) watches them arguing with each other and thinks if he does not stop Komolika now then she can harm Prerna with her madness and that it will not be good for Prerna. Anurag says that this marriage was also a part of her conspiracy but now this will backfire her only. Kasautii Zindagii Kay 2 March 11, 2019 Written Update Full Episode: Will Anurag Drive Prerna Out of His Life Because of Komolika's Fear?
Anurag thinks that he has to make Prerna hate him so that she leaves this house as soon as possible and go back to her house and that she has to give up her adamance of being his wife and forget it and that they cannot be one. Anurag thinks her stubbornness will only give her pain. There Komolika is telling Prerna that nobody wants to see her here but still she is here. Anurag comes there and tells Komolika, why is she shouting at Prerna and that it is not good for her health and tell her to relax and tells that he will handle her and tells Komolika to go up and see if Mohini is fine. Komolika says that she will not go but Anurag says her nicely to please go up and he will handle it.
Anurag sees Prerna and thinks maybe she will feel bad seeing his concern for Komolika and go from here and remove him from her heart. Anurag tells Prerna that she should go from there as she will not get him nor any rights. Prerna tells him that she has not come there to take anything and that she has just come to return everything that he has given her and that too with interest. Kasautii Zindagii Kay 2: This Fun BTS Pic of Hina Khan and Pooja Banerjee Is Something You Can't Miss
Anurag again tells her to go from there as she will get the only failure. Prerna says that she had failed once and now it is his turn to fail now. Anurag asks will she fight with him now and the end will be more disastrous for her so she should leave from here. Prerna says that she will see what will happen later but now he is the one who is going to suffer.
Meanwhile, Mohini is telling Komolika that let Prerna tell whatever she wants, we are not going to fulfill her dreams and that Anurag was not aware of the planetary positions and that everything happened just unknowingly. Mohini tells her that Anurag just loves her otherwise he wouldn't have told her that he wants to marry her. Seeing this all Mishka thinks Anurag would have never agreed to marry her sister if she hadn't blackmailed him.
Komolika says that she loves everyone from this family and wants to live with them but she is scared as Prerna is claiming that she is the daughter-in-law of the Basu family and asks then who she is. Mohini tells her that she is only Basu families daughter-in-law and not her and tells her not to worry as she has called someone and seeing her Prerna will go within five minutes from this place.
Catch the Video Here:
Veena comes in the Basu house, Nivedita sees her and informs Mohini that Veena has come to take Prerna. Mohini tells that she wants to see from her eyes how Veena will drag Prerna and take her and comes down. There Anurag tells her rudely to go out from here but Prerna tells that she has not come to obey him and tells that from today whatever he wants she will do the opposite of that and tells that she has not come to make relations but take revenge from him. Prerna says that he has given pain to her so now he will get pain and she will get peace.
Veena comes and calls out to Prerna and ask what is she doing here, just then Mohini comes and tells that Prerna has come here to ruin the post-wedding rituals and that Anurag has clearly told that he doesn't love her then to she is after him and trying her best to break Anurag and Komolika's marriage. Nivedita also comes and says that this type of girls just fool rich guys to enjoy a luxurious life. Prerna gets angry but Veena shouts at Prerna and tells that why she is shouting at her and that she knows that Prerna still loves Anurag but see Anurag he is not even telling a word as people are questioning her character but he is not affected and tells Prerna she can marry any boy she wants but she won't allow her to marry Anurag and come to this family.
Veena tells that the people standing here are all stone hearted and that they will not understand her but this girl Komolika she is married to Anurag and that what Prerna is doing is not good for Komolika. Prerna tries to tell Veena that she and Anurag…but Mohini cuts her and says that whatever discussion they want to do they should do in their house and leave her house and tells Veena to take her shameless daughter from here. Anurag shouts and tells please don't say this word and why is she wasting her time with this type of people. Veena gets angry and tells Prernato to let us go from here and drags her but Prerna tells that she cannot cross this door, Veena gets shocked listening to this and sees her sindoor in the forehead.
Prerna says that she should have told her earlier and tells that she and Anurag are already married and tells that it happened long back and narrates everything what had happened. Veena comes near Anurag and tells that he has hurt her very much as he was the one who had come to her and told that he loves Prerna and that she saw the truthfulness in his eyes and that is why she gave the blessings to them so why is he doing this all and why Prerna is not able to see his reality. Veena tells Prerna that if she wants to continue with this relationship then she does not have any objections and that she is with Prerna. Veena tells Prerna not to cry and that she is a strong girl and that she should face the problem and get justice.
There Suman is telling her mother that she will not say anything to Shekhar from now and that he only believes his sisters. While she is talking Shivani hears her and tells that she should not talk about Prerna like this and goes from there. There Komolika asks Veena that she is married to Anurag and she is the daughter-in-law of this family and how can she leave her daughter like this. Veena tells that she knows that Mohini does not accept Prerna as her daughter-in-law in the same way she also does not accept her as Anurag's wife as only first marriage if acceptable in the society and that Anurag's first wife is Prerna. While going Veena tells that let Devi Maa give her strength and goes from there.
Anupam goes to leave Veena and tells he is very impressed by Prerna and that he will support her in every way. There Mohini again tells Prerna to get out of there and warns that she will call the police if she does not goes from there. Prerna says that she will herself call the police and calls and tells them that her mother-in-law is trying to throw her out of her house and that they should come soon as she is afraid, Mohini cuts the call. Prerna tells that if she has come till here so she must have done some homework and that no one can take her out from her husbands house. In the precap, Anurag is telling Anupam that his all property is mortgage with Komolika. There Mohini tells Komolika to go on honeymoon with Anurag and make him hers.