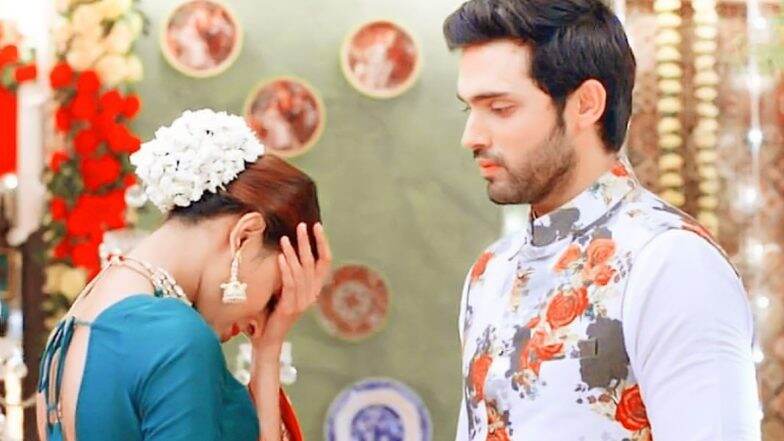 In yesterday's episode of Kasautii Zindagii Kay 2, we saw Mr Bajaj makes a surprising announcement to Prerna's family. Later, Anurag saves her life during a mishap while Tanvi is disappointed with Sharda's decision. Tonight's episode starts with Anurag (Parth Samthaan) clicking Prerna's (Erica Fernandes) photo while Shivani smiles, Bajaj(Karan Singh Grover) watch then and gets enraged. Shivani tells Anurag to enjoy the dance and she will take the video. Kasautii Zindagii Kay 2 October 4, 2019 Written Update Full Episode: Anurag's Heartfelt Confession Stirs Hidden Emotions in Prerna.
On the other side, Anurag takes the drum and start playing it while Prerna dances, they both see each other. Just then Baja also comes with a drum and plays it. Later Bajaj does the dhunachi dance, Anurag also starts doing it, they both dance in front of God Durga. Shivani takes the video of all this. Bajaj's hired goons also dance close to them. Bajaj signs them to put the fire on him, they throw fire at him and run from there, all are shocked to see Bajaj struggling to save himself. Prerna and all come and put water and put off the fire. Meanwhile, Bajaj runs outside after the goons, Prerna also follows him. Kasautii Zindagii Kay 2 October 7, 2019 Written Update Full Episode: Mr Bajaj Gets Upset When Kuki Breaks Prerna's Mangalsutra, Plans Against Anurag.
Later, Bajaj fights with the goons and asks why he wanted to burn him and asks who send him here. On the other side, in the Basu house, the puja rituals are completed and the guests are getting ready to leave, they discuss who might have tried to hurt Bajaj and that it was a real attack. Just then Anurag gets a call and he goes in. Meanwhile, Veena tells Anurag that they will have to leave now but Anurag tells them to have food and Prasad before leaving.
Meanwhile, outside the goon reveals that Anurag has given money to him to attack Bajaj. Bajaj lets him go. Sharda asks why he allowed him to go, Bajaj tells that he promised someone that he will not trouble Anurag so he did not want to create a scene, Prerna watches him and gets upset when she hears Anurag's name. They all go inside. Anurag sees that Prerna is disturbed and wonders why?
Later, in the room, Prerna puts ointment on Bajaj's wounds while Bajaj admires her beauty. Anurag passes by the room and sees Prerna taking care of Bajaj and gets jealous. Just as he tries to go inside, Mohini comes and takes him to her room and asks him what is he doing. Anurag says he cannot forget Prerna and goes from there.
Later, Prerna asks Bajaj what she can do as her whole life is around Anurag and that for the love she did everything and the same love is trying to steal everything from her and gets emotional.
In the precap, Bajaj holds Prerna's hand and consoles her, while Anurag watches them. Later, Prerna questions Anurag why he hired the goons to attack Bajaj.