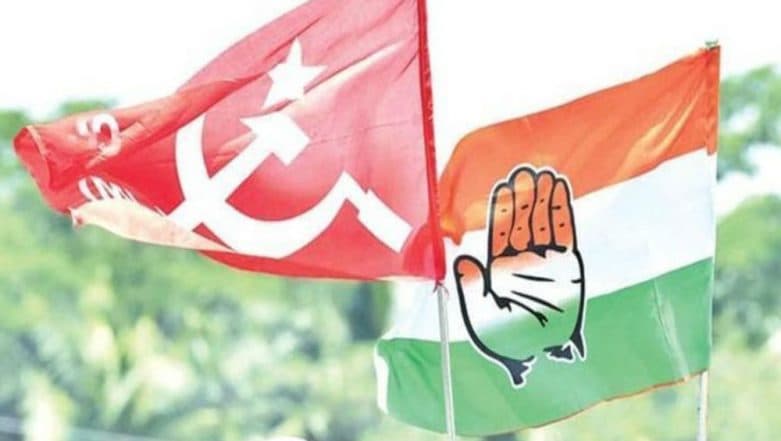 Hyderabad, April 21: The Communist Party of India-Marxist (CPI-M) differentiates between regional secular parties and the Congress as far as alliances are concerned, senior leader Brinda Karat said on Saturday.
She said her party will make every effort to have joint struggles with regional secular parties on mutually agreed issues but there will be absolutely no political alliance with the Congress party.
Addressing a news conference on the sidelines of ongoing 22nd Congress of the CPI-M, she made certain clarifications about the political resolution adopted by the meet late on Friday.
"The alternative policies of the Left which are directly opposed to those of the Congress makes impossible any political alliance with the Congress which is a party of ruling classes and represents corporate interests," she said.
The CPI-M Politburo member also said that the resolution makes it clear that the CPI-M doesn't equate BJP and Congress. "BJP is now the main party representing corporate interests. It is in government following aggressive neo-liberal policies started by the party Congress and it is led and controlled directly by a fascistic orgaisation - the RSS."
Stating that there is no change in the political line of the party, Karat said the resolution made it clear that its first goal is to defeat the BJP-RSS combine in the central government.
"This is the line which advocates our independent struggle, advocates strengthening of Left identity, advocates people's struggle and which says we will pool anti-BJP votes," she said.
Ruling out political alliance with the Congress, the resolution said the party was ready for an "understanding" with it.
Karat clarified that this definition of understanding covers cooperation in Parliament on agreed issues, mobilising all secular opposition parties and forces on the issue of communalism and mobilising mass organisations.
"Electoral tactics come when there are elections," she remarked when asked if understanding will also mean electoral understanding. She pointed that in Karnataka where assembly elections are scheduled next month, the party's line is to seek votes for itself in constituencies where it has an independent base, for other Left parties and in the rest of the seats it will appeal to people to make sure that they vote for candidates who can defeat the BJP.
Karat claimed that this political line in any way doesn't advocate anything other than what they have been saying all along.
Asked about the electoral understanding with the Congress in West Bengal in 2016, she said a follow-up report admitted that it was not in consonance with the political line of the party.
Karat said in the drafted political resolution moved by the Central Committee. the paragraphs on which there were differences were redrafted in an agreed manner.
"I won't say accepted or I won't say rejected. I will say is agreed agreed to redraft and what is emerged is very clear enunciation of political line of the CPI-M," she said when asked if the minority view presented by General Secretary Sitaram Yechury was rejected.
She did not agree that it is victory or defeat of anybody. "It is re-writing of the words which we had used. We have re-worded entire paragraph and merged earlier paragraph which was part of political resolution passed at Visakhapatnam Congress."