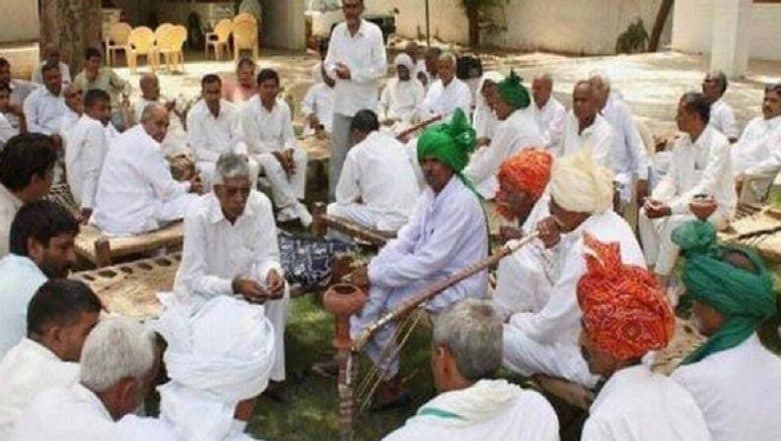 Rohtak, May 28: Several khaps on Sunday gathered at Meham Chaubisi in Rohtak to demand an amendment in Hindu Marriage Act so that same-gotra (clan) and same-village marriages can be banned. A mahapanchayat held on Sunday was chaired by Shamsher Kharkara, convener of Meham Chaubisi. According to a report published in Hindustan Times, in the mahapanchayat the khaps said that wrong marriage laws giving freedom to adults have become a pain for every parent in the state.
"The youth has taken up the wrong path and our law is protecting it. Brothers and sisters are marrying each other without taking care of gotra or village. It's high time to amend the law to make sure our children do not take the wrong step. The criminal laws should be coherent with our customary laws," reported Hindustan Times quoting Kharkara as saying. Former MLA Sukhbir Farmana suggested to include a chapter on marriage in the syllabus of school students. Farmana was of the opinion that inclusion of such chapter in the syllabus should inform them about whom they can and cannot marry.
Another speaker Ramchandra Jangra even claimed that children of people marrying in same gotra would have genetical disoredrs. In its recent order, the Supreme Court had slammed khap panchayats for interfering in the marriages of two adults. Considering order of the top court, the khaps on Sunday said that no fine would be imposed on anyone for defying their orders. At the same time the khaps said that the entire state should follow their order.
In Sunday's meeting, the khaps also demanded to ban porn on the internet. The Khaps said that they would write to the government to impose a ban on porn. According to the report, a decision to ban loud DJs during weddings and other functions was also taken. The Khaps also agreed on reducing mourning period after someone's death from 13 days to seven days. In the meeting, the khaps also expressed disagreement on the practice of organising feasts on someone's death.