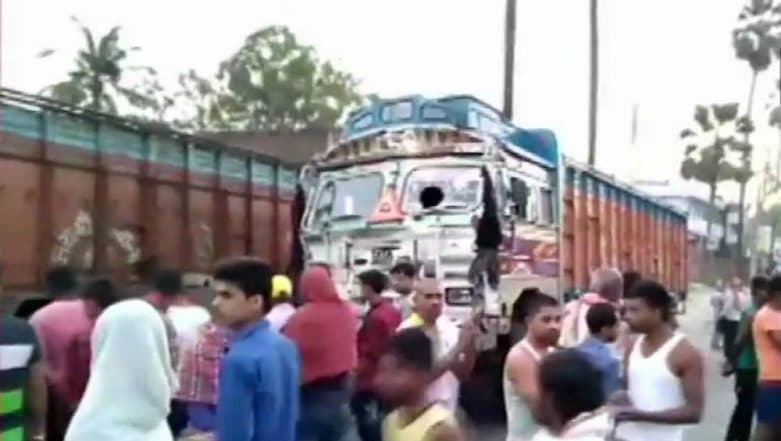 Patna, March 25: A truck collided with an auto rickshaw in Barh-Bakhtiyarpur police station limits of Patna district in the early morning of Monday, resulting into the death of four people and injuring over 13 in the accident. Reports say that the accident occured after the truck hit the rickshaw. There was commotion on the road when the incident took place. Man Dies in Accident After Colliding With Cows, Gujarat Police Files Case Against Him For Speeding and Rash Driving.
Pictures from the accident spot show a badly damaged truck with maximum impact on the front of the vehicle. The auto rickshaw was sent for a toss, after the impact, said reports. Bihar Road Accident: 4 Dead, 9 Injured in Truck-Rickshaw Collision in Munger District.
See Pictures from Accident Spot in the ANI Tweet Below:
Bihar: 4 people dead, 13 injured in collision between a truck and an auto in Barh-Bakhtiyarpur police station limits, in Patna district pic.twitter.com/qkFI33ncE5

— ANI (@ANI) March 25, 2019
As reported, four people lost their lives and several are injured in the incident. The injured have been admitted to a nearby hospital. Many are reported to be seriously injured in the accident.