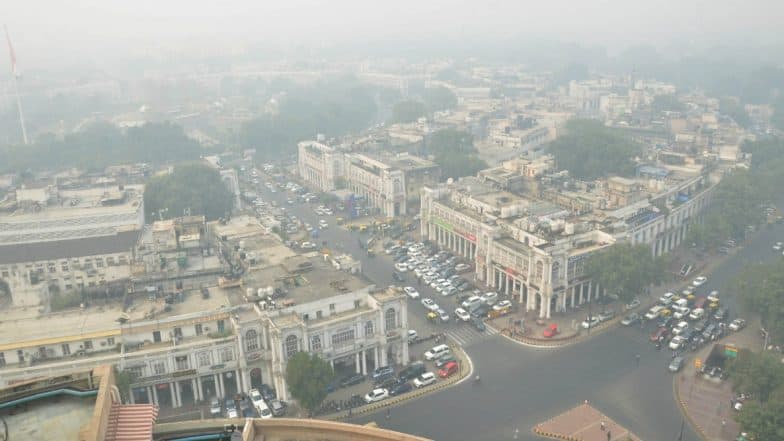 New Delhi, November 2: Delhi continued to reel under thick smog as the air quality remained in 'severe' category even on Saturday, a day after the city recorded its worst air quality of the season. On Friday, the pollution level touched the 'severe plus' category in the national capital, prompting the Environment Pollution (Prevention & Control) Authority to declare a public health emergency in the city due to rising air pollution levels. According to Air Quality Index data on Saturday, major pollutants PM 2.5 was at 500 & PM 10 at 500 (severe category) in Lodhi Road area. Delhi Air Pollution: Air Quality Deteriorates To 'Severe' Category In Lodhi Road Area, Stubble Burning in Neighbouring States Worsens Situation.
The higher the AQI value, the greater the level of air pollution and health concerns. An AQI between 0-50 is considered 'good', 51-100 'satisfactory', 101-200 'moderate', 201-300 'poor', 301-400 'very poor' and 401-500 'severe'. Above 500 falls in the 'severe plus' category. As smog enveloped the city in grey, experts have advised people to urgently take steps to protect their health. On Friday, Delhi's overall air quality index (AQI) was 504 at 3:30 am, but by 4 pm it was recorded at 484 in the 'severe' category, according to official data. Delhi Pollution Update: Public Health Emergency Declared in NCR as Air Quality Deteriorates. 
Schools Shut in Delhi till November 5
The Supreme Court-mandated Environment Pollution (Prevention and Control) Authority on Friday declared the "public health emergency". The Delhi government decided to shut all schools till November 5. Meanwhile, the EPCA has also banned all construction activities in Delhi-NCR till November 5. According to data by  Ministry of Earth Sciences' air quality monitor SAFAR, the share of stubble burning in Delhi's pollution stood at 46 per cent on Friday, the highest so far.
Earlier this week, the air quality in the national capital had entered the "severe plus" or "emergency" category, the first time since January this year, a CPCB official said. The odd-even scheme comes into force on November 4 for a fortnight.
In Delhi, industries which have not yet shifted to piped natural gas, will not operate during the period, it said. The panel also asked schools to curtail all outdoor activities and sports till November 5.
Here's How to Survive the Choking Pollution
People in Delhi were seen moving around with masks while majority stayed resolutely indoors as smog enveloped the city. Several complained of watery eyes, cough, breathing difficulty, allergy, exacerbation of asthma and and chronic obstructive pulmonary diseases (COPD). Kids and adults above the age of 60 are the worst affected.
Health experts said the hazardous air pollution has become a serious health concern for about 2 crore residents. Experts suggested a few dos and don'ts to tackle the ill effects of toxic air pollutants.Dr Randeep Guleria, Director, AIIMS recommended against stepping out for morning walks.
A doctor was quoted in reports saying that people should avoid going out during morning and evening hours. During the current situation everyone should strictly avoid outdoor exercises as the ability to filter out or detoxify environmental agents and pollution is becoming low.

Another doctor, a pulmonologist from Columbia Asia Hospital, Dr Piyush Goel said everyone must don the right pollution mask while going to work or other other places to survive the national capital's toxic air. The normal cloth mask is not as effective as they can't stop any pollutants. Special masks such as the N99 and N95 masks though are expensive are way more effective against the pollution

Since the indoor air quality also deteriorates, Dr Arunesh Kumar, Chief of Chest Institute and Respiratory Medicine, Paras Hospital cautioned the Delhiites to sprinkle water in the morning and in the evening so to avoid pollution caused by suspended dust particles from electronic items such as air conditioners.

Using indoor plants which can purify the air inside the home is also advisable. Whenever facing issues in the respiration process simply inhale steam with few drops of lavender essential oil, it will clear the mucus. In case of the troubled breathing process, keep hot water bag on the chest to get relieved.
Under these circumstances, construction activities, hot mix plants and stone crushers in Delhi, Faridabad, Gurgaon, Ghaziabad, Noida and Greater Noida will remain closed till November 5.
Respite Likely From November 3
After the Environment Pollution (Prevention and Control) Authority on Friday declared a public health emergency in the Delhi-NCR region, weather expert Kuldeep Srivastava was quoted in a report by India Today saying that things will get better for Delhi residents after November 3 because of a western disturbance. The official added saying that a western disturbance will reach Delhi on November 3 and is likely to increase the wind speed from the current 8 km per hour to 20 km per hour. "This will help disperse the air pollutants which have accumulated over Delhi-NCR," Srivastava added.
As per data by SAFAR, nearly 46 per cent of pollution in Delhi on Friday was caused due to stubble burning in neighbouring Punjab and Haryana, the highest this year.  The AQI takes into account five chief pollutants — particulate matter with a diameter less than 10 micrometres (PM10), PM2.5, ozone (O3), nitrogen dioxide (NO2) and carbon monoxide (CO).