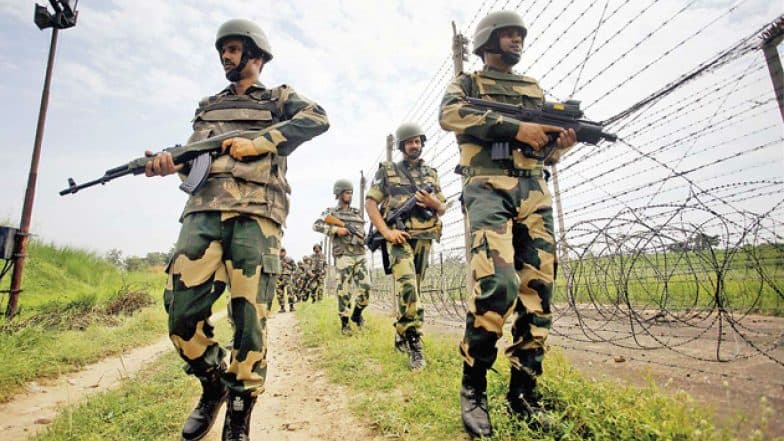 New Delhi, October 10: Intelligence agencies on Thursday informed the Ministry of Home Affairs (MHA) that Pakistan "state actors" were behind the weapons drop by drones across Punjab in September. The agencies submitted a report to the MHA regarding this. As per sources, in the report, the intelligence agencies have mentioned that Pakistan is behind the incidents of weapon drop in Punjab. Pakistani Drone Enters Indian Border Near Firozpur Hussainiwala Border Post; BSF, Punjab Police on High Alert.
A huge cache of AK-47 assault rifles and grenades were dropped in Punjab last month. According to media reports, around eight sorties of drones were detected hovering near the Punjab border. The weapons were meant to create unrest in Kashmir.
The intelligence agencies also questioned that why the Air Force or the Border Security Force (BSF) were unable to detect the drone activity, reported NDTV. The MHA has reportedly asked the National Investigation Agency (NIA) to probe the matter. The National Technical Research Organisation (NTRO) has also been directed to work on a frequency on which these drones have been operating along the border. Pakistani Drones' Air-Intrusion Into Indian Territory, Army and BSF Sound Red Alert Along LoC.
As per some media reports, one of the drones recovered was of Chinese make. The BSF told the MHA that the force does not have adequate technology to detect the drones.
Earlier on Wednesday, the BSF spotted a drone for the third consecutive day near Ferozepur-Hussainiwala border. On Monday night also, BSF personnel spotted a drone in the same area. Last month, two crashed Pakistani drones were recovered from the border areas in Punjab's Amritsar district.