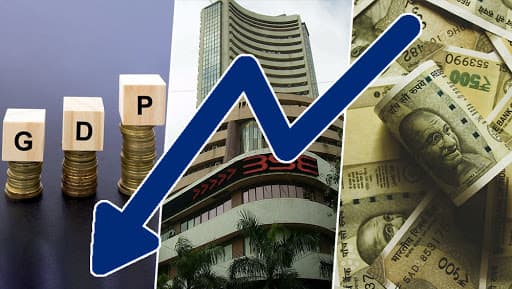 New Delhi, September 3: Rupee value to United States dollar at a nine-month low, Gross Domestic Product (GDP) rate at 5 (five) percent, stock market rolling down to 11,000 points and investor wealth plunges Rs 2.55 lakh crore -- this is the state of Indian economy at present. Though economists opine that situation might improve by October -- post-festive season -- the future of India's economy look a little shaky and bleak. Stock Market Continues Sharp Fall Amid Economic Crisis and Declining GDP Rate; Sensex Closes 769 Points Down at 36,562, Nifty Crashes 247 Points
On Sunday, the Sensex benchmark closed 769.88 points or 2.06 percent, lower at 36,562.91. Not on this, even the broader Nifty closed 247.40 points, or 2.24 percent, lower at 10,775.85. Following this, investor wealth dropped Rs 2.55 lakh crore, and Rupee value consecutively fell 97 paise to a nine-month low of 72.39 against the US dollar on weak macro data.
The additive pressure of declining GDP rate to an over six-year low of 5 (five) percent in the June quarter is another factor that the Narendra Modi government should be worried about. Sustained outflows of foreign portfolio investors (FPI), where overseas investors pulled out a net of Rs 5,920 crore from capital markets in August, is somewhat not going in the ruling dispensation's favour. Though in August 2019, the Finance Minister Nirmala Sitharaman announced a relax in an additional surcharge of FPI, the exodus from Indian markets not stopping. Economic Crisis In India: Investor Wealth Plunges Rs 2.55 Lakh Crore After Stock Market Observes Sharp Fall
Considering the auto sector -- which is facing the massive effect of economic slowdown or crisis to be precise -- job cuts are looming large. Around 3,50,000 workers since April have already lost their jobs in the automobile sector, while another lakh people are on the verge of losing it. Securities and Exchange Board of India (SEBI) in its August report has mentioned that investors lost Rs 13 lakh crore in market Post Budget 2019. Economic Crisis in India: Nirmala Sitharaman Quashes Manmohan Singh's Claims on GDP Data, GST Collections Decline; Here's All the Financial Development From August 2019
With confusions and uncertainty gripping the investors, Sitharaman's announcement of merging 10 public sector undertaking (PSU) banks into four entities is another jolt for people to digest. This decision of the government to revive the economic slowdown might give a little boost to the confidence of investors. However, looking at the recent market trend, the situation is most likely to continue. Economic Crisis Hits Automobile Sector: Tata Motors & Honda Lose Sales By Over 50% in August 2019; Here Are All The Details
Perhaps the only good news for the Union government arrived in recent months was the higher number of taxpayers paying their taxes for the current financial year. The Central Board of Direct Taxes informed that they had received an all-time high of 49,29,121 income tax returns (ITRs) was filed in a single day on August 31. With all the development in the economic sector going on and people looking for a miracle to take place, the Union Finance Ministry too is spending days and nights to boost the confidence of the investors in the Indian market.