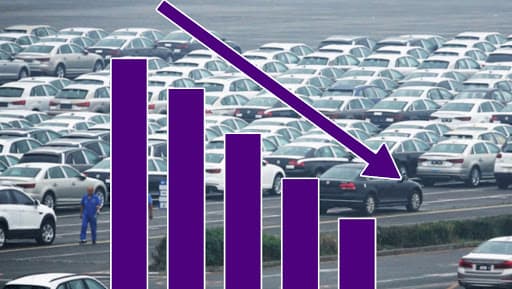 New Delhi, September 1: The economic slowdown in the country is affecting almost every sector, but perhaps the auto sector is affected the most. Reports are arriving that the auto sales of Tata Motors and Honda in India have dropped by over 50 percent compared to last August. Ranging from Maruti to Toyota, every company is suffering a loss, and their sales have dropped to by more than 20 percent. Economic Crisis in India: Nirmala Sitharaman Quashes Manmohan Singh's Claims on GDP Data, GST Collections Decline; Here's All the Financial Development From August 2019
According to data, the sales in Maruti dropped by 33 percent, while Tata Motors's sales declined by 58 percent. Even Honda's sales too reduced by 51 percent. Among other losers in the automobile sector include -- Eicher-Volvo (41.7%), Toyota (21%), Mahindra & Mahindra (25%), Mahindra Tractors (17%) and Hyundai (9.54%) respectively. Toyota Car Sales Plunge 24 Per Cent in India in August
Earlier in the first week of August, Securities and Exchange Board of India (SEBI) reported that investors lost Rs 13 lakh crore in market Post Budget 2019. Also, reports of a decline in the sale of cars and motorcycles are triggering massive job cuts in the auto sector. Due to the economic slowdown, initial estimates suggest that automakers, parts manufacturers and dealers have laid off about 3,50,000 workers since April. Economic Slowdown in India Continues as FPI Pulls Out Rs 5,920 Crore From Capital Markets in August
Here' the tweet by one of the journalist:
August auto sales drop in per cent :

- Maruti Suzuki 33%

- Hyundai 9.54%

- Honda 51%

- Tata Motors 58%

- Toyota 21%

- Eicher-Volvo 41.7%

- Mahindra & Mahindra 25%

- Mahindra Tractors 17%.#india #auto #economy.

— Tarun Shukla (@shukla_tarun) September 1, 2019
With the issue gaining momentum, Union Finance Minister Nirmala Sitharaman addressed a series of press conferences in the past two weeks. In the latest press meet on Sunday in Chennai, she said that the Finance Ministry is in talks with several sectors and hearing their concerns. Indian Economic Slowdown Hits Auto Sector, Over 3.5 Lakh Employees Laid Off Since April 2019
Asked on the job cuts in various sectors, Sitharaman gave the example of the automobile sector and stated that the whole crisis has begun with the Supreme Court order. In the April order, the apex court had said the automobile sector had been advised to transform into the manufacture of BS-IV to BS-VI vehicles. This had added more woes to the manufacturing firm, which is bound to close the production of BS-IV vehicles by March 2020.