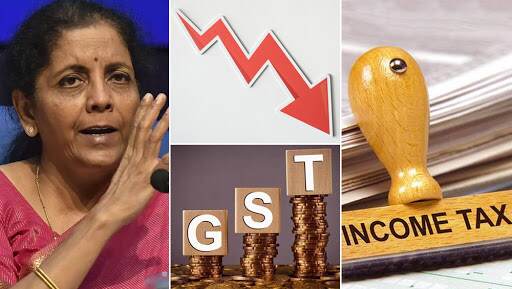 New Delhi, September 1: With Union Finance Minister Nirmala Sitharaman on Sunday claiming that bank mergers would not result in job cuts and that her Ministry is in consultations with different sectors, the report arrived that GST collections slipped below Rs 1 lakh crore in August amid the economic slowdown. Though she stated that the Union Finance Ministry is willing to hear sectors that need support, the trailing figure of 5 (five) percent Gross Domestic Product (GDP) rate is making economists sweat, and investors lose sleep.
Soon after the Finance Minister stated that the Narendra Modi government is looking at the various aspects associated with the economic slowdown and falling GDP rate, it is becoming tough for the economists to believe that the market would improve by October, with the onset of the festive season. Nirmala Sitharaman Dismisses Manmohan Singh's Comments on Economic Slowdown & Job Cuts, Says 'Govt Willing to Hear Sectors That Need Support'
Apart from the global economists, even former Prime Minister Dr Manmohan Singh slammed the Union government and blamed "mismanagement" by ruling dispensation for the economic slowdown. Expressing concern after India's GDP growth rate came down to 5 percent in the first quarter, Manmohan Singh said the country is going through "a prolonged slowdown".
However, Sitharaman accorded Singh's comments on GDP rate which stated that 'instead of indulging in political vendetta they should consult sane voices?'. Answering a question on the issue in Chennai, the FM said, "Is Dr Manmohan Singh saying that 'instead of indulging in political vendetta they should consult sane voices?' Has he said that? All right, thank you, I will take his statement on it. That is my answer." GST Collections Slip Below Rs 1 Lakh Crore in August, Second Decline in Year Amid Economic Slowdown
On the reports of banks unions going on strike post-bank mergers, Sitharaman said that the unions are 'absolutely' ill-informed. She said, "Every union should recall what I have said. There shall not a single employee be removed. There shall be not a single job cut post-bank mergers."
Considering the fall in GST returns and economic slowdown, the additional pull out of Rs 5,920 crore from the Indian capital markets in August by foreign investors is something that even the economic experts are looking into. In the previous week, Sitharaman had announced several steps, which include the forego of additional FPI surcharges. Economic Slowdown in India Continues as FPI Pulls Out Rs 5,920 Crore From Capital Markets in August
Perhaps the only good news for the Narendra Modi government arrived was the higher number of taxpayers paying their taxes for the current financial year. The Central Board of Direct Taxes informed that they had received an all-time high of 49,29,121 ITRs was filed in a single day on August 31. With all the development in the economic sector going on and people looking for a miracle to take place, the Union Finance Ministry too is spending days and nights to boost the confidence of the investors in the Indian market.