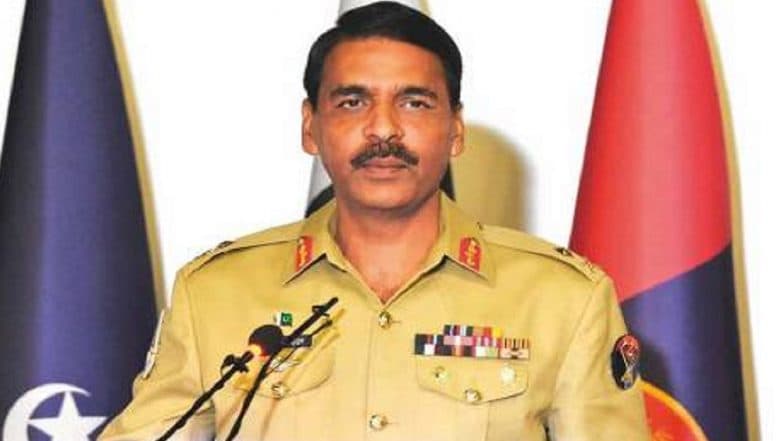 Islamabad, April 1: Pakistan on Monday tweaked its earlier stance that it did not use F-16 fighter jets against India on February 27. Islamabad insisted that it retains the right to use "anything and everything" in its self-defence. Pakistan's military spokesman Maj Gen Asif Ghafoor issued a statement with reference to what he said "repeated Indian claims" about shooting down of Pakistani F-16 by India and use of F-16 in the air battle on February 27. Pakistan's F-16 Hover Close to Indian Border Post Midnight, Retreat After IAF Scrambles Su-30MKIs & Mirage: Report.
Ghafoor said, "As regard Pakistan Air Force (PAF) action for strikes across Line of Control, it was done by JF-17 from within Pakistan airspace." He claimed that when two Indian jets crossed the Line of Control, they were shot down by the Pakistan Air Force (PAF). The Pakistan Military spokesperson further added, "Whether it was F-16 or JF-17 which shot down 2 Indian aircraft is immaterial."
He insisted that PAF shot down two Indian jets in self-defence. At the same time, Ghafoor rejected the claims of the IAF that any F-16 was destroyed by Indian Air Force in the dogfight. The Pakistan Military spokesperson stated, "Only JF-17 was used against India on February 27." IAF Wing Commander Abhinandan Varthaman Returns From Pakistan Via Attari Wagah Border; India Celebrates; See Pic & Video.
Tensions between India and Pakistan escalated after the February 14 attack by Pakistan-based terror outfit Jaish-e-Mohammed (Jem) in Pulwama in which 40 Central Reserve Police Force (CRPF) soldiers. Amid mounting outrage, the Indian Air Force carried out a counter-terror operation, hitting what it said was a JeM training camp in Balakot, deep inside Pakistan on February 26. IAF Wing Commander Abhinandan Varthaman's Return Hailed by PM Narendra Modi.
A day after the IAF air strikes, on February 27, PAF fighter jets also violated the Indian airspace. Following which the IAF's Mig-21, Sukhoi 30 MKI and Mirage 2000 fighter jets planes were pressed into combat operation to chase away the Pakistani jets. In the ensuing battle, IAF Pilot Wing Commander Abhinandan Varthaman shot down Pak F-16 before his MiG-21 Bison got hit.  Wg Cdr Varthaman's parachute landed on the other side of the border, and the IAF pilot was taken into custody by Pakistani Army. The IAF pilot was released after two days. He returned to India from Pakistan via Attari-Wagah Border on March 1.
(With inputs from ANI)