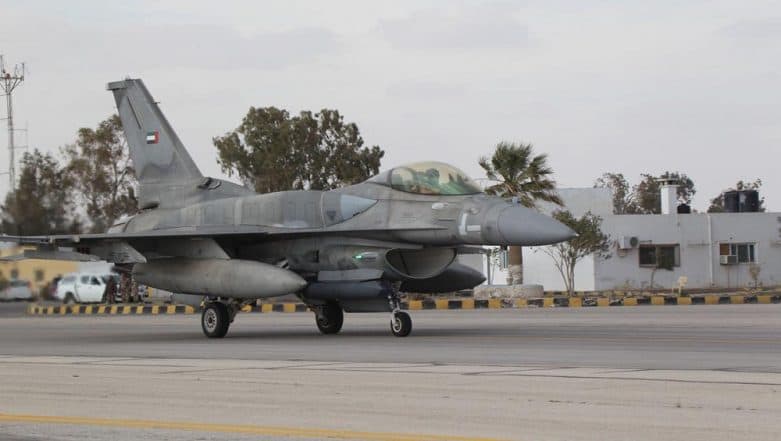 Amritsar, April 1: The Indian Air Force (IAF) on Monday morning scrambled its fighter jets after Pakistani jets were detected flying close to the Indian border in Punjab's Khemkaran sector. According to news agency ANI, Indian radars detected a large-sized Unmanned Aerial Vehicle (UAV) and a package of four Pakistani F-16s flying close to the Indian border. After Pakistan Air Force's fighter jets were spotted, IAF's Su-30MKIs and Mirage immediately pushed into action. Seeing the IAF's response, the Pakistani jets retreated into their territory. The incident took place at 3 am. IAF Wing Commander Abhinandan Varthaman Returns From Pakistan Via Attari Wagah Border; India Celebrates; See Pic & Video.
Earlier, a day after the IAF conducted air strikes in Pakistan's Balakot, on February 27, PAF fighter jets also violated the Indian airspace. Following which the IAF's Mig-21, Sukhoi 30 MKI and Mirage 2000 fighters planes were pressed into combat operation to chase away the Pakistani jets. In the ensuing battle, IAF Pilot Wing Commander Abhinandan Varthaman shot down Pak F-16 before his MiG-21 Bison got hit. IAF Wing Commander Abhinandan Varthaman's Return Hailed by PM Narendra Modi.
Wg Cdr Varthaman's parachute landed on the other side of the border, and the IAF pilot was taken into custody by Pakistani Army. The IAF pilot was released after two days. He returned to India from Pakistan via Attari-Wagah Border on March 1. The tensions between both India and Pakistan escalated after the February 14 Pulwama attack in which 40 Central Reserve Police Force (CRPF) personnel were martyred.