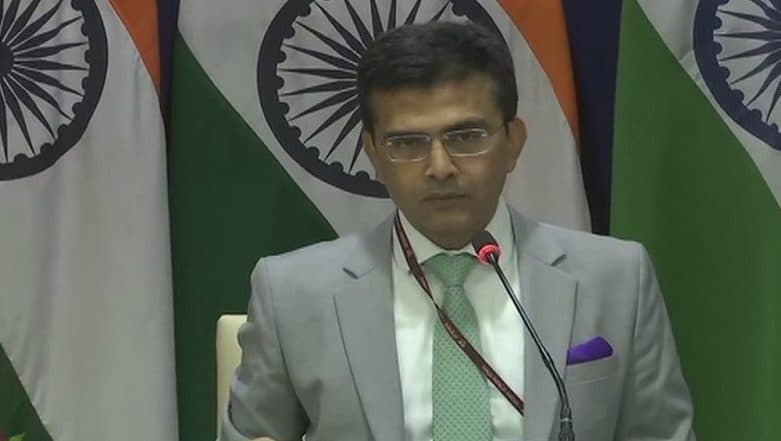 New Delhi, September 20: India has agreed to hold a meeting with Pakistan on the sidelines of United Nations General Assembly (UNGA). Addressing a press conference, Ministry of External Affairs (MEA) spokesperson Raveesh Kumar said, "I can confirm that on the request of the Pakistani side, a meeting between EAM and Pakistani foreign minister will take place on the sidelines of UNGA at a mutually convenient date and time." Kumar further added that the meeting which is to be held on the sidelines of UNGA should not be considered as the resumption of dialogue between the two countries.
Earlier in the day, Pakistan Prime Minister Imran Khan wrote a letter to his Indian counterpart, Narendra Modi, expressing the desire to resume dialogue between the two countries. In his letter, Imran Khan said India and Pakistan must resolve all outstanding issues including Jammu and Kashmir dispute peacefully. He also said Pakistan remains ready to discuss terrorism.
The Pakistan Prime Minister said that Pakistan endorsed the sentiment that the only way forward is 'constructive engagement'. Khan also proposed a meeting between India's External Affairs Minister Sushma Swaraj and Pakistan Foreign Minister Shah Mehmood Qureshi. Following the cross-border terror attack at an Indian Army base in Jammu and Kashmir's Uri in September 2016, India boycotted the SAARC summit which was held in Islamabad.