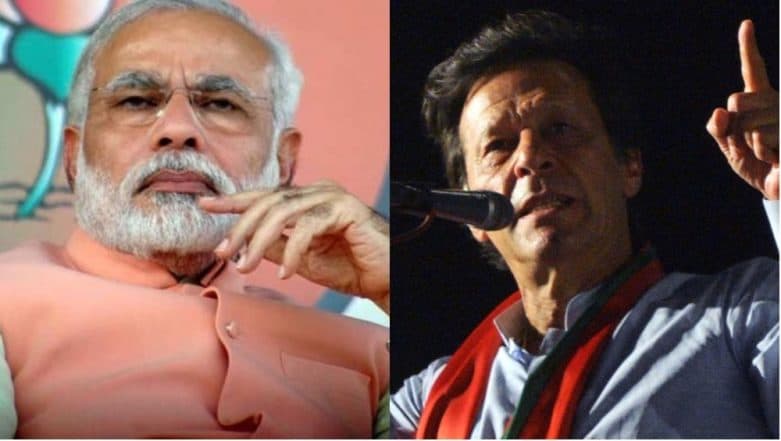 New Delhi, Sep 20: Pakistan Prime Minister Imran Khan has written a letter to his Indian counterpart, Narendra Modi, expressing the desire to resume dialogue between the two countries. In his letter, Imran Khan said India and Pakistan must resolve all outstanding issues including Jammu and Kashmir dispute peacefully. He also said Pakistan remains ready to discuss terrorism.
Khan said Pakistan endorses the sentiment that the only way forward is 'constructive engagement'. "Pakistan and India have an undeniably challenging partnership. We, however, owe it to our people, especially the future generations, to peacefully resolve all outstanding issues, including the Jammu and Kashmir dispute, to bridge differences and achieve a mutually beneficial outcome," the Pakistan PM said.
Khal also proposed a meeting between India's External Affairs Minister Sushma Swaraj and Pakistan Foreign Minister Shah Mehmood Qureshi on the sidelines of the UN General Assembly (UNGA) session later this month. Khan's letter was in response to Modi's communication to him seeking a "meaningful and constructive" engagement as ties between both countries have been on edge with regular violations across the Line of Control.
Pakistan Prime Minister Imran Khan's letter to Prime Minister Narendra Modi. pic.twitter.com/2FZRci3d50

— ANI (@ANI) September 20, 2018
Khan also said that Swaraj and Qureshi can explore the possibility of holding the South Asian Association for Regional Cooperation (Saarc) in Islamabad. Following the cross-border terror attack at an Indian Army base in Jammu and Kashmir in September 2016, the Saarc Summit that was to be held in Islamabad later that year had to be cancelled as other member states of the bloc joined India in boycotting it.
Sources in the Indian government told news agency IANS that no separate meeting between Swaraj and Qureshi had been fixed. Sources said that foreign ministers of the member countries of the South Asian Association for Regional Cooperation (Saarc) will have an informal meeting on the sidelines of the UNGA. "But no separate meeting between our External Affairs Minister and the Pakistan Foreign Minister has been finalised," a source in the know of things was quoted as saying.