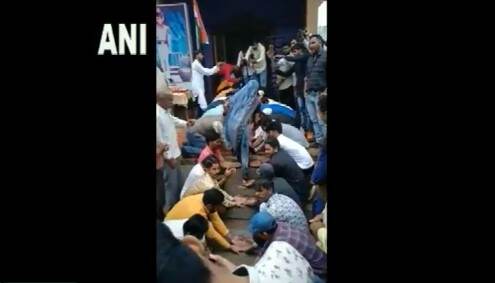 Indore, August 16: In a beautiful gesture, a martyr's wife living in Betma village in Madhya Pradesh's Indore was gifted a new house by the youths on the occasion of Independence Day 2019. Twenty-seven years after her husband BSF jawan Mohan Singh was martyred in Tripura, villagers collected Rs 11 lakh to finance a house from the woman who was living in an old hut. Chhattisgarh: Constable Kavita Kaushal Ties Rakhi on Martyr Brother Rakesh Kaushal's Gun, Calls Naxals 'Coward'.
Since 1992, Raju Bai had been living a hut with a broken roof. After seeing her condition, the village youths started a campaign called 'One Cheque-One Sign' to collect funds to build a house. Raksha Bandhan 2019: Qamar Mohsin Shaikh, Pakistan-Origin Woman, Ties Rakhi to PM Narendra Modi, Gifts Him Painting Made by Her Husband.
On August 15, on the occasion of Raksha Bandhan and Independence Day, she was given the key to the house. The villagers also placed their hands on the ground to welcome Rai into the new house. The video of the episode is going viral on the internet.
Watch Video:
#WATCH Indore: Youth in Betma village presented new house y'day to wife of soldier Mohan Singh(who lost his life in 1992 in Assam).She had been living in 'kuccha' house till now. They also placed their hands on the ground in respect to help her enter the house for the first time pic.twitter.com/wp3mSM3lWZ

— ANI (@ANI) August 16, 2019
Meanwhile, the house cost Rs 10 lakh. The remaining Rs 1 lakh has been kept for building a statue of Mohan Singh. It will be installed on the main road. "Apart from this, efforts are also being made to name the government school where he studied after Mohan Singh," a villager said.