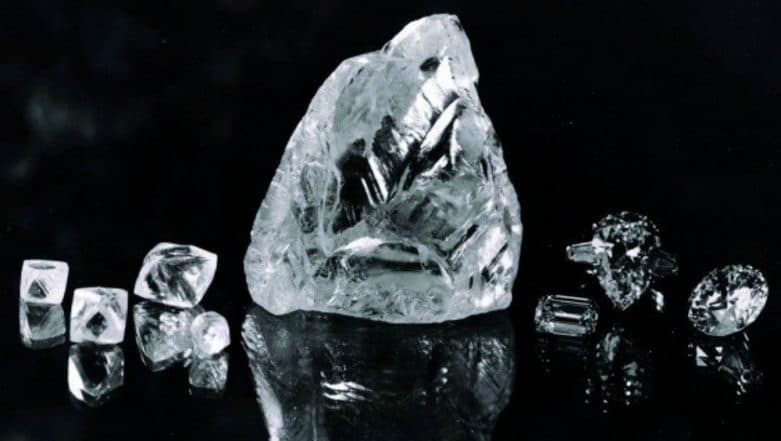 Bhopal, December 31: Two miners from Madhya Pradesh's Panna district can finally dream of educating their children in good schools after they mined a big diamond which fetched Rs 2.55 crore in an auction. Motilal and Raghuveer have received the best gifts before the new year imaginable. Miners Unearth the Biggest Diamond Ever Found in Canada: List of 3 Largest Diamonds in the World.
In an auction held in Panna on Friday, the 42.9 carat diamond found by labourers Motilal and Raghuveer, earned a staggering Rs 2.55 crores, reported a leading English daily. The amount has changed the lives of the labourers, who are looking forward to pay their debts and educating their children. 552-Carat Diamond Unearthed in Canada, Largest in North America!
A BSP leader from Uttar Pradesh, and a businessman from Jhansi who is also a jeweller, made the historic bid. The duo offered as much as Rs 6 lakh per carat, which is the highest ever in the history of Panna.
The diamond officer of Panna said that the bidders have offered 20% of the money already (in cheque) and that the remaining sum will be paid by them once they receive the diamond.
Panna district in Madhya Pradesh has shallow diamond mines and Motilal and Raghuveer dug the biggest ever diamond in recent times. The diamond officer said that the duo will receive about Rs 2.30 crores- Rs 1. 15 crores each, after deducting the taxes and royalty. The miners could find the diamond as the district administration allows people to try their luck by taking lease of 8m x 8m shallow mine. The fees for leasing the mine is a nominal amount for one year.