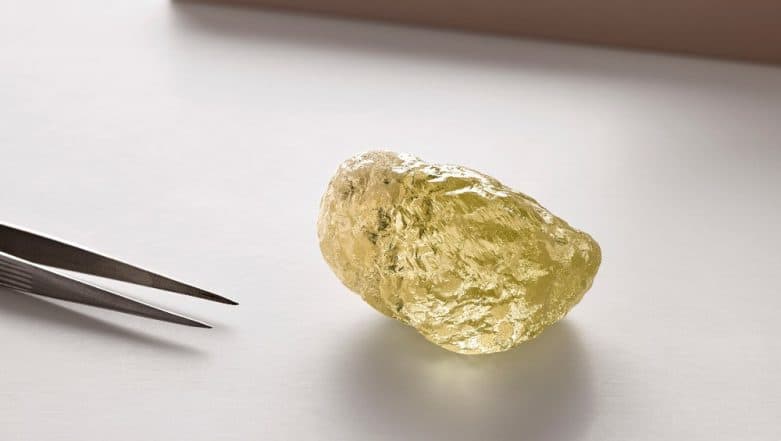 A diamond, the largest ever found in North America was recently unearthed in Canada. Mining company Dominion Diamond Mines in a press release on Thursday said that the diamond was discovered at the Diavik Diamond Mine in Canada's Northwest Territories in October. In 2015, Diavik Foxfire had recovered a 187.7-carat diamond at the same mine. The new 552-carat stone surpasses the previously held record.
Kyle Washington, Chairman of Dominion Diamond Mines said, "This incredible discovery showcases what is truly spectacular about Canadamark diamonds. The color and texture of the diamond are a unique example of the journey that natural diamonds take from their formation until we unearth them. Our Diavik Mine has produced some of the most beautiful diamonds in the world, and this one certainly tops the list." Marie Antoinette's Pearl & Diamond Pendant Auctioned at Sotheby's for Record $36.4 Million (View Pics)
It measures 33.74mm x 54.56mm and withholds a unique colour, texture and structure that may be studied further. A diamond of this size is believed to be a true milestone for diamond mining in North America. The diamond will undergo further processing to make it look at its best and will not be sold in its rough form.
Dominion will choose a partner who will cut and polish the diamond. Only high qualified personnel will be selected so as to ensure the stone' beauty and colour are maximized. As the stone is in its early stage, its value cannot be determined yet. Recently Diavik Foxfire yielded a 37.87 brilliant-cut pear shape and a 36.80 brilliant-cut pear shape for stones that recently auctioned as part of Christies Magnificent Jewels at USD1.3 million.