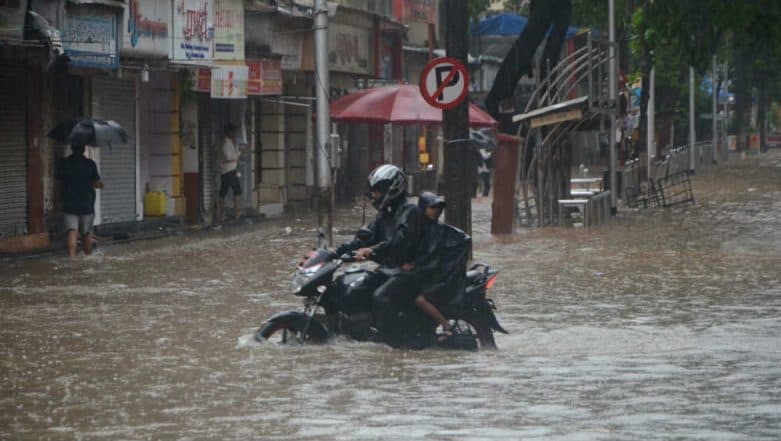 Mumbai, July 1: Heavy rains have been wreaking havoc in Mumbai since the last two days. The maximum city is now at risk of flooding between July 3 and July 5. According to Skymet Weather, close to 200 mm rain per day is going to lash Mumbai during these two days. Also, adjoining Thane and Palghar districts of Maharashtra may also witness extremely heavy rainfall till July 5. Mumbai Rains Live News Updates, Traffic & Local Train Status Today, July 1, 2019.
Meanwhile, on Monday, local train services on Central line are running late following heavy rains. Several intercity trains were also delayed after good trains derailed between Jambrung and Thakurwadi on ghat section between Karjat and Lonavala. Mumbai Rains: Local Train Services, Road Traffic Hit Hard Due to Heavy Rains and Water-Logging.
In the last 24 hours, the financial capital has received 93 mm rainfall. According to reports, Bandra recorded with 194 mm, Chembur (188.2 mm) and Worli (151.8 mm) until Monday morning. Between 8 a.m.-noon on July 1, the city experienced 34 mm of rainfall, the eastern suburbs 16 mm and the western suburbs 17 mm.
Meanwhile, a wall collapse incident was reported from Andheri area of Mumbai due to heavy rains. The incident took place in Andheri's Marol area, at Agar Skyview Society, Bhavani Nagar. However, no injuries were reported. Earlier in the day, a 30-year-old man, Mohammed Ayub Kazi, was electrocuted inside his home in Shivajinagar, Govandi suburb in north-east Mumbai. He was immediately rushed to the Rajawadi Hospital where he was declared dead.