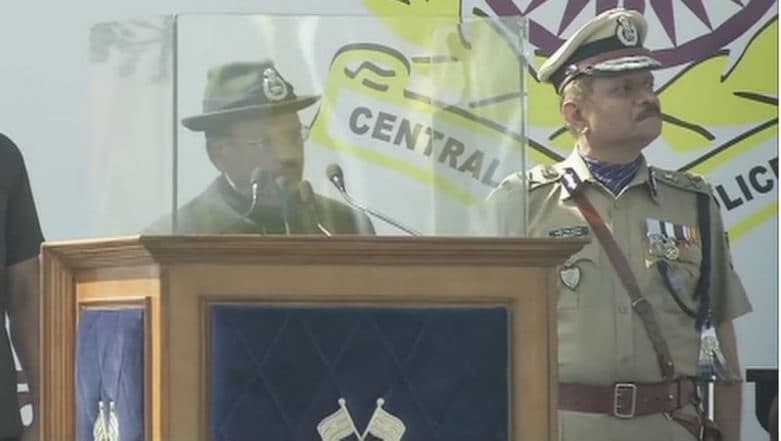 Gurugram, March 19: National Security Advisor Ajit Doval on Tuesday sent a stern message to Pakistan for providing shelter to terrorists who carry out anti-India activities. Speaking at 80th CRPF Anniversary Parade, Ajit Doval, in a veiled warning to Pakistan, said India will act against terrorists and those who harbour and support them. The country will never forget what happened in Pulwama on February 14, Doval said.
"The leadership will decide on time and locations to act, be it against terrorists or those who support and harbour them," Doval said. "I want to pay tributes to the brave 40 CRPF jawans who sacrificed their lives in Pulwama for the country. The country hasn't forgotten their supreme sacrifice and it will never forget it," he added. The National Security Advisor also hailed Central Reserve Police Force (CRPF) for their service to the nation. Pakistan Lie Busted Again! Lockheed Martin Not Suing India For Claiming MiG-21 Shot Down F-16 Fighter Jet.
"Whenever we have meetings and discuss which force to send? How many battalions should be sent where? We say, send CRPF. It's a credible force, we can completely trust them. It takes years to achieve such credibility," Doval said. Tensions between India and Pakistan reached a peak after a terrorist rammed his explosive-laden vehicle into a CRPF convoy killing 40 troops. Pakistan-based Jaish-e-Mohammed claimed the responsibility of the attack.
Following the Pulwama attack, the Indian Air Force bombed the JeM's hideout at Balakot, Pakistan, after which Islamabad scrambled its fighters jets that resulted in a dogfight with Indian warplanes. During the aerial fight which lasted for about 15 minutes, Wing Commander Abhinandan shot down PAF's F-16 fight jet, becoming the first pilot to do so with a MiG-21 Bison. In this process, his plane crossed over to the Pakistani side and was shot down.
Abhinandan ejected safely but was taken into custody by the Pakistan Army upon landing. Pakistan later released him as a "peace gesture".