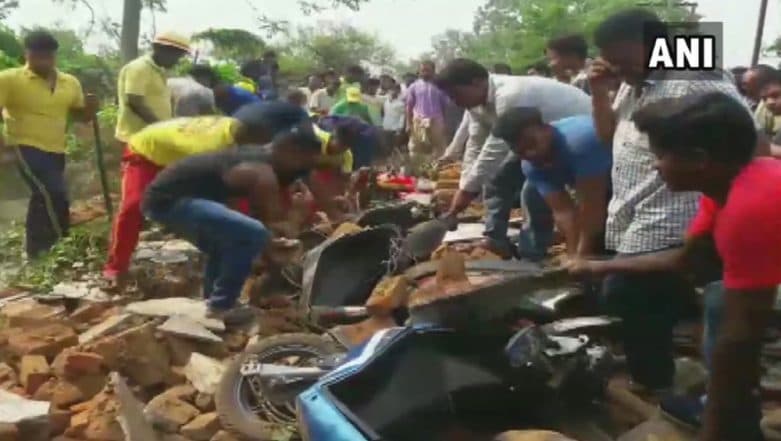 Bhubaneswar, June 9: In a tragic incident reported from Odisha's Dhenkanal region, at least four people were killed and five left injured with grievous injuries after wall of a rice mill collapsed on Sunday morning. The incident occurred close to the bustling Alasua market.
The victims were rushed to the nearest District Headquarter Hospital (DHH), where the five injured persons are being treated. Their condition was yet to be known by the time this report was published. Rajasthan: 3 Dead After Roof of Under-Construction Building Collapses in Prithvipura Area of Jodhpur
Personnel from the ODRAF and the Odisha Fire Safety department were rushed to the site of accident, where they were assisted by locals in clearing the debris and rushing the victims to the medical facility.
Update by ANI:
Dhenkanal: 4 dead and 5 injured after wall of a rice mill collapsed near Alasua market. Rescue operations underway. #Odisha pic.twitter.com/OXHC5Qel35

— ANI (@ANI) June 9, 2019
Three among the deceased have been identified by the local media. Their names have been reported as Rama Chandra Sahu, Sangram Sahu and Abhimanyu Biswal. The identity of another victim who sustained fatal injuries is yet to be ascertained.
All the victims were vegetable vendors, who used to put up their stalls outside the rice mill. Apart from casualty count known so far, reports claim that there could be couple of more people trapped beneath the debris. No official, however, has confirmed the same.